The solo female traveller's checklist: Everything you need to know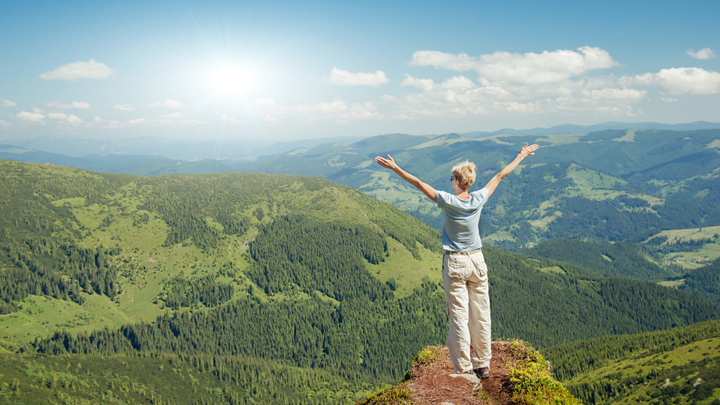 Want to set off on a solo adventure but aren't sure where to start? A trip on your own can seem daunting – there's so much planning to do and things to work out.
Even if you're just inquisitive or want to explore all that solo travelling can offer, you might have a few questions such as "will I be safe" or "will I be lonely".
There is no reason you shouldn't organise a trip and feel empowered with your decision to just go for it, whether you're single, divorced or widowed. You might even just want to check an item off your bucket list and that may mean leaving your partner behind for a short time. Whatever the reason, women should be able to travel alone.
After all, travelling by yourself has so many benefits, you just need to be open minded and do your research – which is why we've created this guide for you.
The best destinations for a solo traveller
Ad. Article continues below.
If it is your first time solo travelling, it's advised to travel to an English-speaking destination first, just to dip your toes in. This will give you an idea of how much you enjoy solo travelling without putting you outside of your comfort zone. Ireland, New Zealand and Canada are all great, friendly destinations that are known for their hospitality. With that said, the majority of Europe is safe and solo traveller-friendly.
Another region well-known for its smiles and open arms is Southeast Asia. Thailand and Cambodia have beautiful people who are deeply respectful and peaceful.
More dangerous countries include Egypt, parts of Africa, Mexico and some Central American countries.
Staying in touch on the road
There are many ways to keep in contact with your friends and family and put their mind at ease that you're travelling the world solo.
Ad. Article continues below.
You can connect via photos and videos on Facebook, as well as using Messenger, plus Skype and Viber offer free video/voice calls internationally.
If you're going off the beaten track alone without reception, you can purchase a GPS tracking device such as SPOT which will send a pre-recorded message to friends and family via satellite.
Is it expensive to travel alone?
You may have heard that travelling alone is more expensive than in a couple, and yes, by the rules of maths, it is. Hotel rooms are often twin share as are cruises and some tours, however the travelling world is adapting more and more to the solo nomad.
Another way to avoid paying more for travelling solo is to ask – it never asks to check before you book.
Ad. Article continues below.
If you would rather travel in a group, there are heaps of tours and groups available for people over 60 in a similar situation.
Single tariff fee

Depending on the trip you book, you may have a single supplement/tariff fee that is unavoidable. Or, the organisation will arrange for a roommate. There are many companies that do not charge this so just ask.

Male to female ratio

If you're looking to meet other eligible singles on your trip be sure to ask what the male to female ratio typically is. Most organisations keep a record of participant statistics so it's important to ask.
One way to avoid the 'single-supplement fee' is to stay in hostels, use AirBnB or couch surf. Hostels particularly have single rooms if you prefer privacy, or you can book a bed in a dormitory. For something a bit more fancy and different, AirBnB is facilitated by people who rent their home or a room for a fee. Or if you're really on a budget, couchsurfing could be an option, but only select people who have many excellent reviews i.e. 20 or more.
Taking photos alone
This gets asked a lot but luckily now you don't have to set up the tripod or have someone take it for you, running the risk of your camera being stolen. It sounds ridiculous but 'selfie sticks' have become popular among solo travellers for a reason. They're commonly used so you won't be the only one!
Ad. Article continues below.
Will I be lonely?
It sounds like a lonely travel experience, going out on your own, but it's unlikely you'll have time to feel lonely when you're busy exploring and meeting people from around the world. You'll be so tired by the time you get back to your accommodation that you'll be grateful for the peace and quiet.
If you don't speak the language….
If you don't speak the language of the country/countries you're travelling to, don't worry. You can learn a few phrases either through a guidebook or dictionary, or you can practice with apps. Duolingo is the most popular free language app and can give you some basic tools to ask.
Otherwise, find out how to say 'hello' 'goodbye' 'thank you' 'no' 'yes' 'please' 'where is the bathroom' and anything else useful and write it on your phone or in a notepad.
Ad. Article continues below.
Where should I stay? 
Avoid large, impersonal hotels. Try to find a friendly local bed and breakfast. You will be more likely to find someone to eat dinner with and the host may even show you around the town.
Take a few of your hotel business/contact cards with you so you can give this to your cab driver or ask for directions home. This is especially helpful if there is a language barrier in the place you're visiting.
Also, be aware of your flight and hotel check in times. Travelling can be exhausting but if you plan ahead, you will be able to check in and rest in your room before continuing your sightseeing. Allow yourself a day or two to recover from jet lag and rest.
Safety
Ad. Article continues below.
We don't want to make you paranoid of travelling alone as a female but there are a few other things to consider when embarking on solo travels. It's important to be aware of your surroundings so you're less vulnerable to uncomfortable situations.
Taxis
Choose a taxi that is properly marked as a legitimate vehicle. Remember, you're getting in a complete stranger's car.
Though this can be difficult to always do, it is recommended that you make note of the registration and official document identifying the driver. To do this, we suggest taking a photo with it on your phone. This can be super helpful not only for your safety but also if you forget your belongings in the taxi.
Hotels
Ad. Article continues below.
Typically, hotels seem safe and clean on their websites but it is easy to be fooled by these photos. It's important to look at third party reviews of your desired hotel to see what other people say about the accommodation.
It's also a good idea to stay central. It may cost a bit extra but as a general rule of thumb, it's safer being in more lively areas than a rural spot further out.
Try to book a private room that is not on the ground floor. Keep your values locked in the safe. You can also leave the "Do Not Disturb" sign up to deter thieves from entering or vocally announce your departure from your room, as if there was someone remaining behind and the room is not left unattended.
Packing
Here's some tips for packing lightly for a solo trip.
Ad. Article continues below.
Hopefully this information will help you understand that travelling by yourself doesn't mean you're travelling alone!
Tell us, have you travelled or are you planning on travelling overseas alone? How was your experience? Would you do it again?