The social media campaigns fighting for and against clemency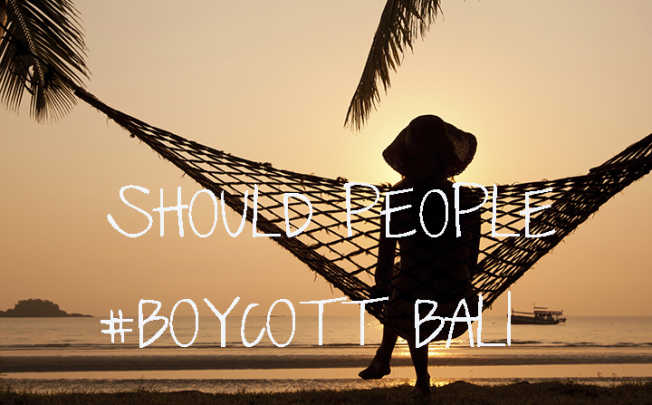 The funeral director in Indonesia has apparently not been told at this time to prepare for the deaths of Andrew Chan or Myuran Sukumaran and every day that the execution doesn't happen, people of Australia and the International communities have the opportunity to put more pressure on the Indonesian Government for clemency of the men.  But the fight is turning into a tit for tat, with significant social media efforts working both for and against the men. It has us asking what you think of the situation today.
Andrew Chan and Myuran Sukumaran have been sent to death row in Bali and plans to move them to Nusakambangan island for their executions are apparently not yet in play.  The funeral director says that at this time he has not been asked to order coffins, which takes time and Deputy Prime Minister, Julie Bishop says she spoke with the men by phone assuring them that we would take the opportunity presented by the delays in Indonesia to continue to press the case with the Indonesian authorities.
Social media campaigns are firmly underway, seeking to drive public and private attention to the men's rehabilitation, and their contribution within the prison system over the last ten years.  Will it be enough to save them, nobody knows.  But one thing most people agree on… it is worth trying.  Efforts are working for and against the cause though, with what seems like an enormous international outpouring.  But Tony Abbott's firm comments are unfortunately being read the wrong way by locals, who are treating Australians as indian givers and packing a wrath of their own.
AAP reports that on Saturday, members of a Bali-based group called Mothers for Mercy arrived at Kerobokan jail with armfuls of flowers and cards for Chan, Sukumaran and the prison staff.  The floral gifts were sent from a group of mothers who found each other on Facebook and wanted to thank the wardens of the prison for their support of the Australians.  It took me back as an incredibly gracious way to develop empathy with Indonesian officials.
Ad. Article continues below.
Mothers for Mercy check out this story of love and redemption #bali9 #rehabilitation @mercycampaign http://t.co/9xI3liMXFG

— mothersformercy (@mothersformercy) February 19, 2015
Meanwhile, the hashtag #BoycottBali has been gaining strength on social media, causing major airlines significant dips in bookings to the location.  The Australian reported earlier this week that travel site cheapflights.com.au said it had noted a sharp decline in inquiries about Bali holidays.
Ad. Article continues below.
I will #boycottbali for the rest of my life should they murder our citizens. #bali9

— Prof Deborah Marsh (@djmarsh24) February 13, 2015
Goodbye Indonesia. Because human life is to valuable and no one has the right to take it. I'll never visit your country. #boycottbali

— Ben (@bschued) February 13, 2015
Last weekend's threatening words from Julie Bishop who said Australians would "register their deep disapproval (of the executions) including by making decisions about where they wished to holiday" seem to be holding true.
Ad. Article continues below.
The move contrasts with the firm stance our Prime Minister is taking which has inspired another less merciful social media outpouring from Indonesians who believe that our Prime Minister should not be interfering with their internal affairs.
The hashtag "KoinuntukAustralia" (coins for Australia)  has been set in place against our Prime Minister by the Indonesians, with them offering to send back, coin by coin, the billion dollars worth of aid Australia sent to Indonesia after the 2004 tsunami.
Mr Abbott said, "let's not forget that a few years ago when Indonesia was struck by the Indian Ocean tsunami, Australia sent $1 billion worth of assistance, we sent a significant contingent of our armed forces to help in Indonesia with humanitarian relief and Australians lost their lives in that campaign to help Indonesia."
The direct interconnection of the money offered generously for between tsunami relief and lack of clemency for pending executions have Indonesians shaking their heads.
In the Australian, our Foreign Ministry spokesman Arrmanatha Nasir is reported as saying, "There's a saying in Indonesia, orang Akan terlihat warns sebenarnya (a person is seen by his actual colour).  So I hope the statement made doesn't show the true colour of Australians."
Ad. Article continues below.
I pray for u sir ! if someday u help your brother u never tell to anyone @TonyAbbottMHR #KoinuntukAustralia pic.twitter.com/4TvKbIzRVS

— KresnaAdhiPrahmana (@kreznaAdhi) February 21, 2015
" Hey You !! @TonyAbbottMHR ! This is Coin for your Country #CoinForAustralia #KoinUntukAustralia pic.twitter.com/FPFRAv1AIE"" — ~ BLACK ROSE ~ (@Vitha_Cantiku) February 21, 2015
Dear @TonyAbbottMHR …your bank account please… #KoinuntukAustralia #CoinForAustralia pic.twitter.com/hd3GAd9ZkH

— JA Lebert (@IyanLebert) February 21, 2015