The silly side of swimming taking over social media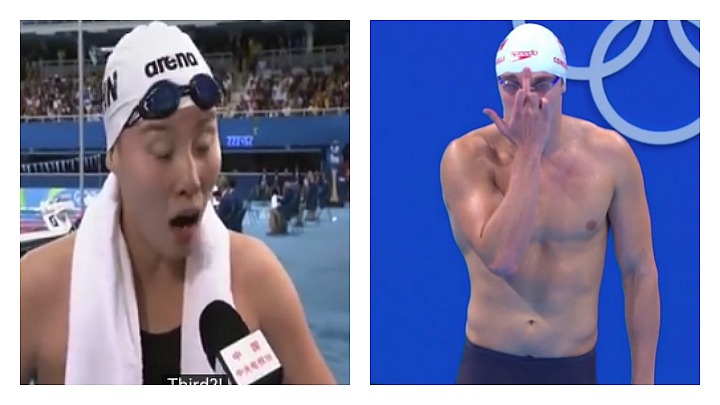 From hilarious reactions to unusual pre-race rituals, swimming at the Rio Olympics is proving to be a lot of fun!
While Australian Mack Horton might have taken over social media in China when he called Chinese rival Sun Yang a drug cheat, the real star for China at these games is actually women's backstroker Fu Yuanhui.
While so many of the post-race interviews ask obvious questions, it turns out the 20-year-old Fu is oblivious to the obvious answers and has been crack us up with her hilarious responses.
Interviewed by a Chinese broadcaster after her 100m backstroke, Fu was clearly ecstatic to discover she'd broken the 59 second barrier.
"58.95?! I thought I did 59 seconds. Wow! Am I so fast? I am very pleased," she says.
Ad. Article continues below.
Talk about chill.
It gets better. When Fu lined up against Aussie duo Emily Seebohm and Madison Wilson in the final she was swimming from lane three. Though she didn't realise it at the time, Fu raced quicker again and touched the wall in a dead heat for the bronze medal.
Trudging her way over to the same broadcaster for another interview, Fu had no idea what the final result was. She looked to be holding back tears of disappointment saying, "even though I didn't win a medal…" but before she could finish the reporter interrupted.
"But you got a medal, you are third."
You can imagine the look of shock on Fu's face when that news was broken, or you could watch the video below and see for yourself.
Ad. Article continues below.
Before the race
As far as pre-race rituals go, there are some absolute shockers — wearing the same pair of undies, not washing your game day socks, always having the same breakfast before a match, just for examples.
However, Canadian freestyler Santo Condorelli has one that got crowds gasping as he stepped up for his 100m freestyle heat.
It was ever so subtle, and if you weren't watching closely you would have missed it. Santo was looking around the stadium obviously trying to locate a special someone in the crowd.
That special someone? His dad of course.
Ad. Article continues below.
As it happens, Santo's pre-race superstition is to flip his dad the bird before he climbs atop the blocks at the start of every race. His dad gives the finger right back, too.
It's a ritual the pair have been carrying out for several years and apparently there is a perfectly good reason — Santo might be 188cm tall now, but when he first started competing he would be intimidated by the other, bigger boys around him.
His father, Joseph came up with a novel plan.
"I told him 'Enough is enough'," Joseph tells swimswam.com. "When you get on the blocks, just put everything out of your mind and swim like there's nobody near you. He said to me 'How do you do that?' and I said 'Well, you say f*** it'. He looked at me in the crowd, and we both gave each other the finger…"
For the record, Santo has been winning race after race, including his heat at Rio.
Ad. Article continues below.
Santo Condorelli gives his father the finger as a good luck ritual before every race. Amazing. #Rio2016 #teamcanada pic.twitter.com/pXsfV1b1aY

— Ash Dwight (@ashdwight) August 9, 2016
But let's get back to Mack Horton. It would seem his calling out of 'drug cheats' has caught on and Channel 7 reporter Amanda Abate found herself tongue tied when introducing Chinese swimmer Sun Yang.
Instead of saying 'one of the country's stars' during the live 2016 Rio Olympics coverage, Abate said Sun Yang was "one of China's cheats".
Given how well Horton's words were received by Chinese Olympics supporters, you would have to wonder if Amanda will face the same furore.
What 'magic moments' have you seen at the Rio Olympics? How are you enjoying the coverage of the Games?