The shocking and juicy confessions of a cruise ship employee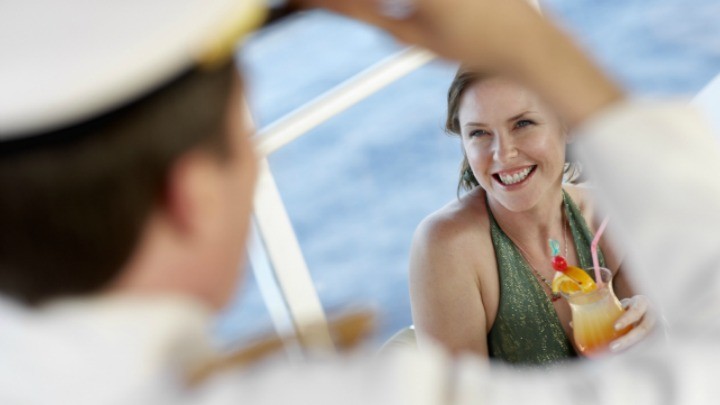 At age 30, I decided to quit my job in Hospitality and pursue a life dream: To work on board an international cruise ship. My experiences at sea were rich, varied and sometimes most unexpected!
After working as a waiter in some of Sydney's top restaurants, I found it surprisingly easy to become employed by one of the world's largest cruise ship companies.
I was thrilled to discover my first cruise would leave from San Fransisco, and go via Maui before ending in Honolulu. This ten day USA cruise was my first, and boy was it an eye-opener!
The first thing I discovered about cruising, is that passengers and staff alike really let loose! The bars and pools come alive at night, and people seem to leave many of their inhibitions on dry land.
I heard of one 60-something couple engaging in a ménage à trois to celebrate their wedding anniversary, whilst several older women skinny-dipped in the pool!
Ad. Article continues below.
Alcohol and sea-air encourages people to do things they wouldn't normally. As a male waiter, I quite often received generous tips from older single women, and even a bedroom invite or two!
My next cruise left from Miami and went throughout the Bahamas. During this cruise, I quickly learnt what working on a cruise ship involved.
A "regular" shift was about 10 hours long, and an extreme day could be towards 14 hours. Staff worked seven days a week (that's right, no weekends) but partied almost every day.
After a shift, you'd quickly find yourself below-deck. Staff have specific bars, pools and common rooms which are separated from the other passengers on a cruise ship.
This sense of privacy means that trysts between staff are very common, which sometimes made the next day at work uncomfortable.
Ad. Article continues below.
I did hear about one male colleague who attempted to keep a female passenger hidden in his room, even though her cruise was complete. Management quickly discovered these two lovebirds, and both were asked to leave the ship…
The pay on a cruise ship is not good. Salaries basically rely on two things: what your nationality is and what international waters you're working on.
There are many Filipino staff members, because they are well-known for their work ethic and friendliness. Aussies can collect a higher basic wage, but have a reputation for being larrikins.
I definitely turned up my playful personality, because without tips life would have been quite unaffordable. Even though food and board is covered by each cruise liner, it would be impossible to save otherwise.
Soon I was cruising throughout Europe on an even larger ship, and was shocked to discover some other secrets. Firstly, did you know there is a morgue on-board nearly every cruise ship?
Ad. Article continues below.
At least one or two passengers will pass away (because of natural causes) during every cruise. Some people even actively choose to have their "last hoorah" on board, and will have travel insurance cover the costs of repatriation. Morbid, but true.
Passengers generally gain at least 3 kilos on a cruise, because the food, drink and buffet options are just so plentiful. There are doctors on board who report regular cases of overeating (yep, people stuff themselves sick!)
There is so much fun to be had on a cruise ship though, whether it's one of the nightly dance shows, themed costume nights, professional performances or more.
I'm now back on dry-land after spending four years at sea. The lifestyle is eye-opening, but definitely not sustainable long term.
For anyone considering a cruise, I'd say go for it! Life is too short to stay in one place.
What's the best cruising experience you've ever had? Are you surprised by these juicy revelations?