The real Aussies who won the Melbourne Cup for us all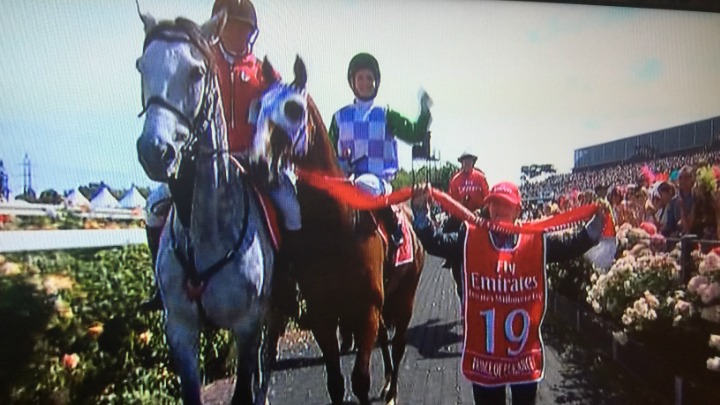 Did you catch the race? What a result! But instead of a slick syndicate or owner, famous trainer and well-known jockey taking the prized trophy, real Australians have won the Cup, the glory and the spoils.
We can't decide what moves us the most: is it the groundbreaking young woman who rode Prince of Penzance so expertly and with such feeling, taking the title of the first woman to win the Melbourne Cup?
Is it the "small fry owners", six blokes who have been mates for years who decided to pool their cash and buy a nag without telling their other nags (their wives)?
Or is it the genuine acceptance and warmth shown to Michelle Payne's brother Stevie, the strapper with Down Syndrome who showed such total love for the horse, and such confidence in his sister – ordering her to win because he had his money on her?
Prince of Penzance jockey @mj_payne and strapper Stevie Payne. https://t.co/OK4pDV4VSc #MelbourneCup pic.twitter.com/KkPAj75mwf

— 7 News Sydney (@7NewsSydney) November 3, 2015
Ad. Article continues below.
It's all of that and more – finally, an Aussie horse wins, and won with such a wonderful story. The six men – a podiatrist, a couple of engineers, an IT consultant, a solutions expert and a producer — had had a few tries on a winning horse, but were ready to throw in the towel.
They thought they'd give the horse they'd all fallen in love with, Prince of Penzance, one last go and he proved them right. Earning $600,000 in 23 stars, the young horse got a run at the world's richest race – at unbelievable odds of 101 to 0ne.
The odds weren't great for the woman who today shares in Prince of Penzance's glory. In her acceptance speech, Michelle said she almost didn't get a run in the male dominated sport.
"To think that (trainer) Darren Weir has given me a go and it's such a chauvinistic sport, I know some of the owners were keen to kick me off," Payne said.
Ad. Article continues below.
Well, we can safely bet they are thanking their lucky stars today that Michelle was on that horse because it's truly one of the most exciting and memorable Melbourne Cup races of all time.
Were you watching? Which moment will you remember forever?