The Pope's strong message that we can all get behind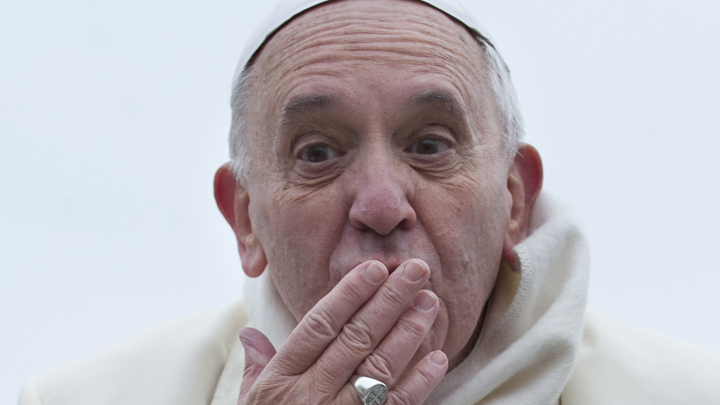 You'd be forgiven for thinking the Catholic Church was stuck in its ways…that is until Pope Francis came along. The Argentinian leader has radically changed the Church….and for the better. Over the weekend, Pope Francis held an assembly with Catholic bishops and has sternly proclaimed that God is not afraid of change.
This is a new direction for the church that is renowned for its stiff views on gay marriage, abortion and sex. Pope Francis told a sermon of 70,000 that he wants to make the Church more merciful and less rigid.
Just last week, the Vatican broke new ground by welcoming homosexuals, divorcees and unwed couples into the Church, only for Sunday's vote to reverse all of that. The conservative bishops in the Church asserted power over the Pope and it seems to have angered the usually calm Francis. He said, "God is not afraid of new things. That is why he is continuously surprising us, opening our hearts and guiding us in unexpected ways", no doubt referencing the somewhat archaic teachings that millions still follow religiously. He spoke of a tolerant God, one who accepted every person as a child of the Church, not just those who live and die by the book. Times are changing and it's refreshing that Pope Francis isn't denying that, even though his bishops might.
Pope Francis has landed himself love all over the world for his open-mindedness and for being the first Pope to say, "Who am I to judge gays?". In a world where we are questioning our leaders' intentions, Pope Francis really does seem like he cares about the people.
So what are the other Catholic bishops so worried about? Shouldn't they just listen to their superior? They think that the liberalisation of the Church would create confusion among the faithful and threatened to undermine the traditional family. But shouldn't we be breeding tolerance of everyone? After all, isn't that what a fair God would have wanted? Would he really have wanted to exclude people who were gay, but also led loving and giving lives?
Ad. Article continues below.
Thankfully, not everything is in the hands of the closed-minded few – next year parishes around the world will be able to discuss the three issues: gay, divorced and unwed (co-habitating) couples. This will also mean that Pope Francis will be given another chance to convince the Catholic leaders to be more tolerant.
It goes to show that even if you aren't a believer or religious, you can be in full support of a Catholic leader who can be on the compassionate side of issues that a lot of us feel strongly about. If the Catholic Church can accept gays, perhaps it will help our governments to turn over marriage laws…after all, they are worried to because they are afraid it could anger the Church.
What do you think of the Pope's message to bishops? Should the Catholic Church be more tolerant and accepting? Would further changes in the Catholic Church help our Australian cause for gay marriage? Tell us your thoughts below.