The nomad's guide to recording your memories on your next adventure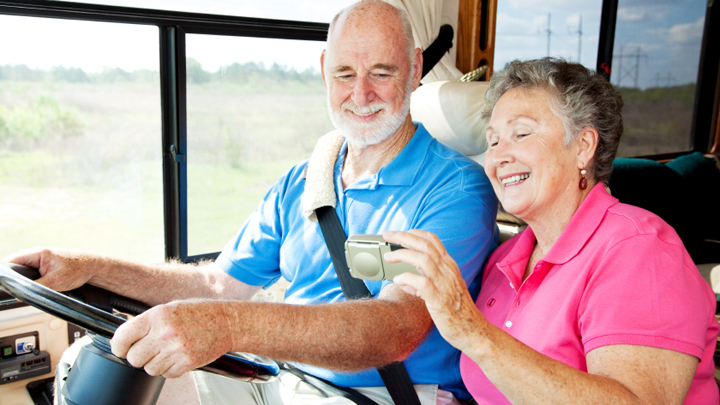 Whether you're on the great open road or backpacking around Europe, chances are you'll want to record your adventures.
If you aren't sure of all the options available, you could miss out on getting some wonderful footage to show the grandies and your friends. Here's our tips for recording your memories whilst nomading. Which will you try?
GoPro
You may have heard of the GoPro or a similar action camera – they're everywhere at the moment! Don't be discouraged by the videos you may have seen of people of surf boards or dirt bikes, as these little point-of-view cameras are handy outside of extreme sports.
Ad. Article continues below.
You can purchase accessories to go with your action camera, including head and bike mounts, meaning the possibilities of recording your memories are endless. In your caravan, you can set up a dash cam or if you're riding around the countryside or through the streets of Europe, you can strap it to your handlebars.
New versions of the GoPro have Wi-Fi capability so you can easily transfer your videos to your computer wirelessly.
Google Photos
While relatively new, Google Photos has been getting some amazing reviews. Google Photos is a free photo management system and offers unlimited storage for high-resolution images (16MP max) and videos (1080p max). Google Photos is available as an iOS, Android, and desktop app allowing you to sync images and videos from your Mobile devices, PC, camera, or SD cards.
Ad. Article continues below.
Online travel blog
If you love to write, or even if you just want to write down your travel diary on your computer, a travel blog is a great place to start. They're easy to set up on WordPress or other blog sites, and are easy to use. You simply write a post and add photos or videos to it and share the link with your family, or even us so we can publish it!
If you have internet access and a computer throughout your trip you can easily set up a blog and you can make it private or public. And even if you don't have internet, you can save posts for later.
Ad. Article continues below.
Vlog
Like an online blog, a vlog is like a diary but in video form. You record your thoughts and summary of events (or whatever you like) on your camera and upload to your page.
Instagram
Ad. Article continues below.
Your grandkids absolutely love this app and so should you. Remember those cool photos we use to take on our Polaroids? Well, Instagram does sort o the same thing by adding filters to stylise your images, giving them a retro feel. But above all, Instagram is a great way to share photos on the run with your followers.
Tell us, how do you record your memories whilst on holidays?