The latest thing the government is spending millions on teaching our grandkids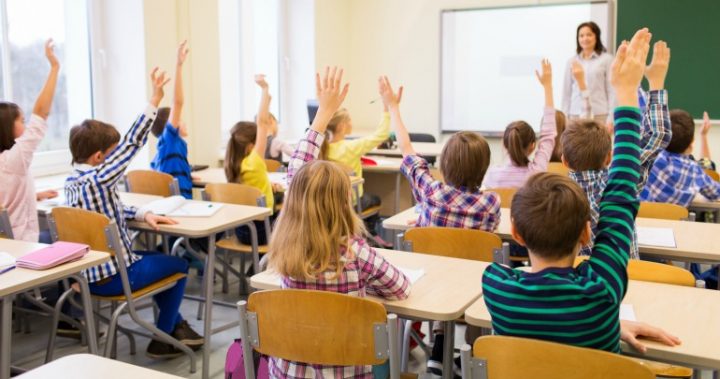 No doubt you heard about the Safe Schools program or the Respectful Relationships program that have been rolled out in schools across the country.
Well, now the government has a new program it's rolling out to teach kids, and let's just say it's not maths or English – the areas where our grandkids are reportedly lagging behind the rest of the world.
Instead, the Federal Government is rolling out a program to teach more than 30,000 preschoolers how to speak another language this year.
At a time when some kids can barely spell, it has many questioning whether it's really what we should be teaching today's generation.
Minister for Education and Training Simon Birmingham released a statement yesterday, revealing the languages that would be taught included Arabic, Chinese (Mandarin), French, Indonesian, Italian, Japanese and Spanish. 
Ad. Article continues below.
"Learning a foreign language doesn't just give children the gift of the gab, it can boost other vital skills like problem solving and their literacy in English that ultimately carry through to their performance at school," he said.
 "Through our initial $9.8 million commitment to develop and trial the program in 2014 and 2015, we've seen how the ELLA languages program can have positive impact on our children and so parents and families should get in touch with their preschool or child care service and ask them to sign up. We have a range of tools in place to help services roll out the ELLA program but they need to register by February 26 2017. 
"The ELLA program has been a big hit with parents, educators and of course the children themselves and thanks to our additional funding of $5.9 million this will be the first year that anyone can take part."
And it looks like Chinese is the most popular language, with 25% of participating preschools and child care centres signing up to teach their students Chinese.
You might be wondering why the Minister thinks teaching foreign languages should be a priority?
Ad. Article continues below.
Well, he pointed to figures that showed the number of Year 12 students studying another language had dropped from 40% in the 1960s to just 12% today. 
"Walking into classrooms and hearing children enjoying singing or counting in another language and even following recipes, you get a grasp of how engaging and entertaining the ELLA program is and why an independent evaluation found 78 per cent of parents had seen their child using words from the language they learned through ELLA outside of preschool," he said.
"We know life-long learning begins from the youngest years and our $15.7 million investment in the languages app highlights the Turnbull Government's commitment to reviving the study of languages throughout Australia's early education centres, schools and universities. 
"Even where young students may not continue into school with the language they learned in preschool, research indicates that they will enjoy real cognitive and developmental benefits from learning another language in their earliest years."
 Did you study a foreign language while you were in school?
Is this a good idea? Or is there more important things we should be teaching today's generation?