The land of dreams, myths, and puffins [Rogue Nomads]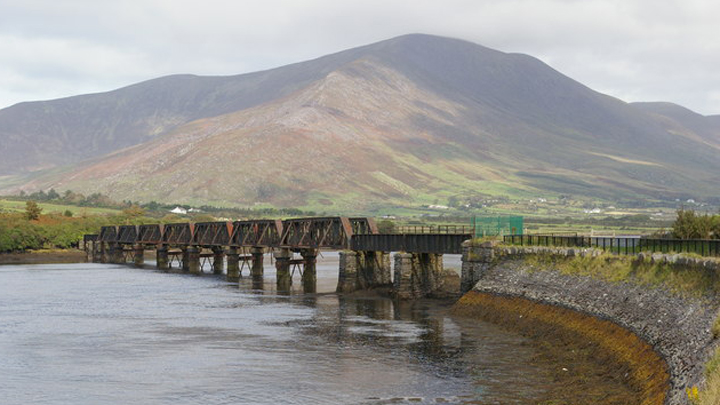 This is part 24 of Dee's grey nomad adventure around Europe. To read her previous instalment, click here
We arrived at Mannix Point Caravan Park on the west coast of the Ring of Kerry (another European Black Sky spot) and were greeted by Mortimer Moriarty. What an amazing name! And a delightful man with his sidekick, Paddy. The nicest situated park in Ireland; it even has a music room! So we were immediately made to feel at home and we were set up with a site overlooking the water and Valentia Island. The best sunset completed our pleasure and we had booked for four nights!
The next day we stirred ourselves and took the ferry (€9 return) to Valentia Island. We drove around the island, stopping to look closely at the lighthouse – there was a panoramic landscape to see up on the Fogher Cliffs and Bray Tower, an 18th Century signal tower. Lots of subtropical plants in this area; crimson fuchsia hedges abound.
On returning to Cahersiveen, we needed some veggies. I saw a sign for fresh veggies so we turned in to the driveway. The shop looked devoid of anything of the eating variety, so we decided to head to a supermarket, at which time "Gary" came up to us and asked what we wanted. I said we were after spinach, cabbage, etc., so he said to follow him and he picked the veggies direct! So we had runner beans, black Irish cabbage, Irish spinach and a few other items. An Aladdin's cave of vegetables. Gary told me that he used to work for a pharmaceutical company, but he changed to moving and growing vegetables "for a woman and, to be sure, she was worth it".
Ad. Article continues below.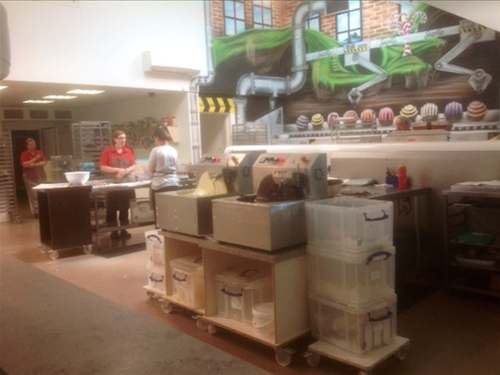 Next we popped into the town to buy some bread. I can't remember why, but as we were coming out of the shop I said under my breath "Men!". Two ancient Irish ladies turned and one said "To be sure, you'd be wanting to put a paper bag over their heads!"  Well, it was all hilarious banter from then on, with the Irish man with them and Greg looking confusedly at each other, while we women discussed the sentence "They're all the same, English, Irish, Australian… Don't ask directions, don't change the toilet roll….etc."  I still smile, thinking of that encounter. Some of the best highlights of our trip have been the people we've met along the way.
Next day it was the turn of the Ring of Kerry, including Skellig Ring (the part the coaches can't go). It was a very enjoyable drive, scenic, and relatively isolated. Steep climbs, twisting roads. We stopped for lunch at Ballinskellig Village, which has a lovely stretch of beach. Met two Irish ladies sunbathing, and they told us about the Skellig Chocolate Factory just down the road…and you get to taste the different flavours for nothing! So off we went. Strawberry and champagne, Irish whisky, and many other other flavours – delicious. We bought two packs for presents, then ate the lot within a week! We then drove up a steep hill to Our Lady's Quarry…high up on the hill there is still a slate mine still working, but if you look up, up, up the sheer cliff where slate had already been mined, there is a small alcove housing statues of Our Lady and other artefacts. There was then an exhilarating descent.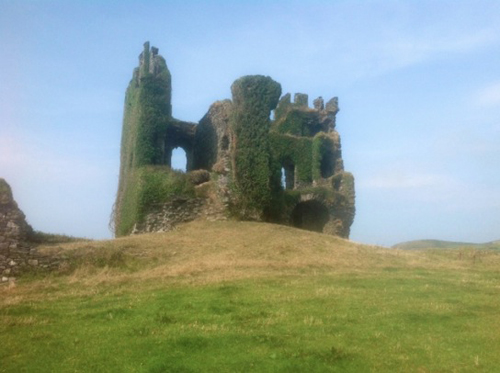 We drove way up again to Bolus Point where there is a lighthouse. Looked down onto the cliffs, reminiscent of the Great Ocean Road, and we could see seals and dolphins…lots of them!
Ad. Article continues below.
Back on the tourist track, we entered Waterville, which was full of tourist coaches. It boasts a statue of Charlie Chaplin, who was a regular visitor. We couldn't find him! Pulled up outside a cafe a bit further along and outside was a sign "we cannot cater for coaches, nor can we cater for loud Americans. Quiet tourists welcome".  I wonder how much custom he lost. The bay there is very pretty, so we tucked into our box of chips looking across to Skellig Rock, a place we would have loved to visit, but not this time. Full of wild birds, puffins and a home to seals and dolphins.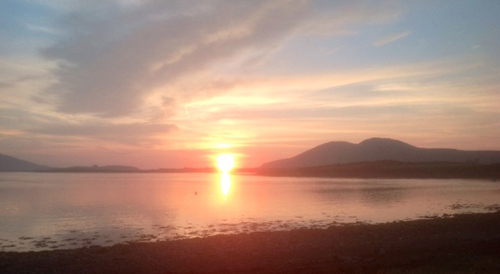 Over the pass, taking in Molls Gap – spectacular views but nowhere to stop – then Ladies View – where we could not only stop, but could listen to a busker playing Irish tunes, while looking at the view from which it takes it's name.  Apparently one of Queen Victoria's ladies-in-waiting, while accompanying the queen on a visit to Killarney in 1861, pronounced it "the finest view in the land". I can't disagree with that; it looks like all of Kerry can be seen from there.
Nearly there. We drove through Killarney, and headed on to Cahersiveen and a good rest. A beautiful, sun filled day, with great views, and some interesting people.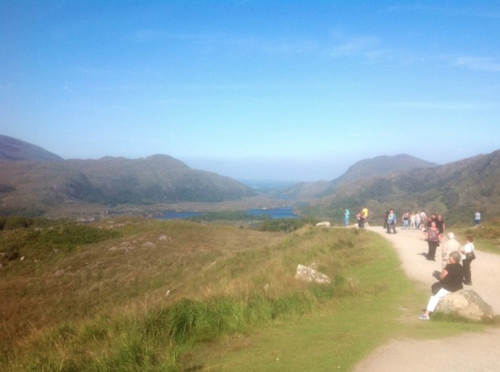 Ad. Article continues below.
Our last day at the site was to be a "nothing" day…rest, washing, look at the water. But in the afternoon we decided to visit the castle, which we could see across the water, and this we did.  The castle isn't even in the guidebooks, but it's still a good looking ruin! Greg was very naughty and climbed up some spiral, stone, crumbling, staircases, with me shouting at him to come down it was too dangerous and he's not 25 any more. Actually I think he even scared himself!
Then we took a walk to two stone forts, both were probably fortified farms, still in good condition. Those guys knew how to build for the long term!
Finally we took a detour down a road that wasn't marked on our map, and found a delightful little bay and harbour, with people actually swimming in the water. You'd have to be a local to know about it.
We had walked quite a bit, so we went "home" to a well earned rest…..and to pack ready for ……Cork!