The Knitting Nannas rap their message against CSG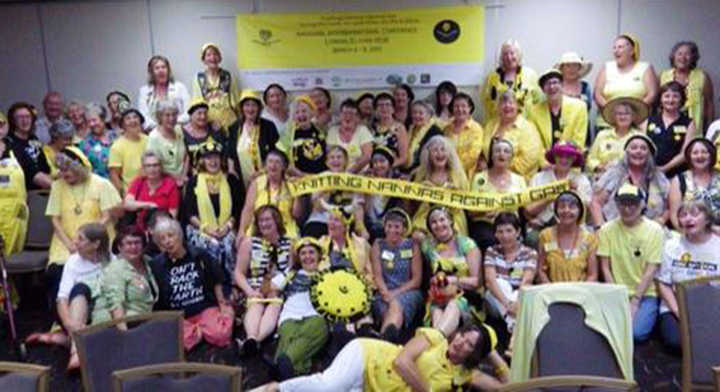 There is an important crusade in the NSW election that you may or may not have seen. It's the Knitting Nannas Against CSG, and whether you agree or disagree with their fight against gas, you simply have to take a look at their Nanna Wrap today. The Nannas, who are affiliated all over Australia and throughout the world, are standing up for what they believe in, staging political "sit-ins" around NSW regional members offices, leveraging a group of polite women who knit yellow and black to identify with the "Lock the Gate" symbol being used in the fight against gas in the regional areas.
Knitting Nannas Against Gas was established in the Northern Rivers area of New South Wales in June 2012, in response to a growing awareness of the exploration for unconventionally mined gas in our prime agricultural land. They boast an extensive national and international membership, maintaining connections via a web site, facebook and twitter and appear to be quite well organised in their fight.
"KNAG draws on a broad history of knitting used as a tool for non-violent political activism. We view our knitting skills as less important than the act of bearing witness while we knit. Our knitting choices range between functional items for sale such as beanies, tea cosies and toys, to more symbolic objects," their website says.
"These include triangles in many sizes that echo 'Lock the Gate' versions, long lengths of knitting which are thrown across gates and roads in imminent danger of invasion by drill rigs, cushions for protectors who may be uncomfortably immobilised for long periods of time when 'locked on' and chainsleeves to prevent lock-on blisters".
The movement calls their mission:
Ad. Article continues below.
You don't have to be a Nanna;
you don't have to knit
to save our land and water for the kiddies!
Watch their Nanna Wrap and smile today. What a terrific effort.
Do you know a Knitting Nanna, or have you seen them protesting?
Ad. Article continues below.
Go meet the @knittingnannas at Martin Place, Sydney as they have a knit in! #Csg #fracking #bs wool #nswvotes #nocsg pic.twitter.com/lC7uJYsfS2

— No CSG Coonabarabran (@CRAG_Coona) March 12, 2015
GRAFTON NANNAS START 2015 KNIT-INS http://t.co/BUNukLuyH5 Grafton Loop @knittingnannas #Clarence #NSWVotes pic.twitter.com/LFTtKS9KiP — Meredith Stanton (@CloudsCreek) February 4, 2015
@knittingnannas of #Coonabarabran protecting us from #CSG. They are ready for #nswvotes to make a difference! pic.twitter.com/WwGhxbwsiG

— No CSG Coonabarabran (@CRAG_Coona) March 3, 2015
Ad. Article continues below.
These girls mean business #knittingnannas to #ProtectGloucester agst @aglenergy #csg #fracking #nswpol pic.twitter.com/N1SSDoS84b — megan (@mrl58) September 29, 2014
<(' ) #knittingnannasarewatchingyou NSW State political candidates! @LockTheGate @knittingnannas @auspol pic.twitter.com/1If9Lb4m7G

— Chooks against GAS (@swampgirl64) March 8, 2015