The hidden story behind Aussie's Chloe Esposito's Olympic gold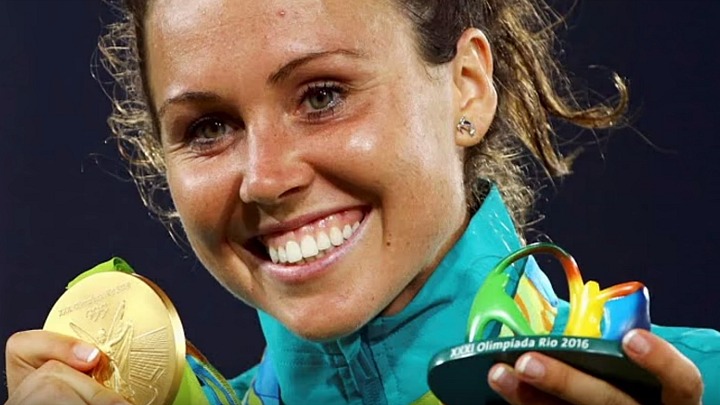 Every time we see an athlete up on the podium, it is often when they are in the best moments of their lives. But much happens behind the curtain and before that glory is claimed, our athletes make sacrifices that few can even imagine.
This week, Chloe Esposito won gold in women's modern pentathlon, Australia's first medal, let alone gold, in the five-discipline event.
But Esposito's story is a tale of family and sacrifice without which she could not have brought us home that medal.
About three years ago, Chloe, her brother Max and father Daniel packed up and left their home in Casula, western Sydney, for Budapest.
They left behind sister Emily and their mother Suzanne for this reason: Chloe, who was seventh in London four years ago, and emerging talent Max, who at 19 is making his Olympic debut as the youngest in the men's field in Brazil this weekend, were only ever going to be able to get so far if they remained in Australia, where modern pentathlon is the most fringe of pursuits, reports SMH.
Ad. Article continues below.
Chloe and her father, an Olympian who competed in Los Angeles in 1984, had already been travelling back and forth between Sydney and Europe for competitions.
Chloe had to be away from her family and friends so she could further her skills in fencing, the first of the disciplines that make up the sport, the others being swimming, horse-riding and the combined run and shoot.
Despite the smile that you see, the displacement hasn't always been easy, even more so now because her fiance Matt was also in Sydney.
"I miss family, friends, the beach… they've got lakes and pools and stuff in Budapest, but it's not like home," Esposito said.
"I was lucky enough to have dad and Max, my brother there with me the whole time and mum was there with me for parts of that as well, which I was grateful for. But my sister was back in Australia and my fiance as well.
Ad. Article continues below.
In the finals, Esposito blitz the field by 16 seconds in the run and shoot finale at Deodoro Stadium. But now many knew, her Olympic lead-in had been also been interrupted by an achilles injury which made her a no-show at major competitions. She was downcast about her prospects in Rio.
"Then, it was about a month and a half ago, training was going really well and I've never thought this before ever but I thought 'you know what, I can win' I just had this gut feeling that 'I can do this'. I just believed in myself and it happened."
Are you proud of our athletes?