The Form Guide just won't be the same. Cummings dies age 87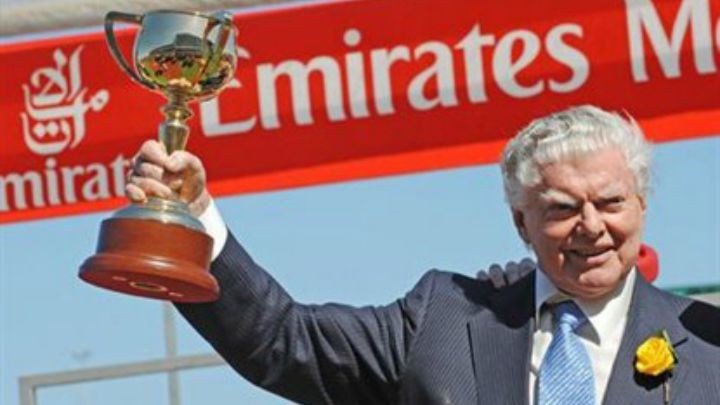 Whether you fold it, roll it or slip it in the back pocket, the Form Guide just won't be the same without a Bart Cummings trained horse among the field.
In sad news today, legendary race horse trainer and OAM, Bart Cummings has passed away in the early hours of this morning in the family home, aged 87.
Cummings was the racing industry's most celebrated and successful horse trainer, amassing almost 7000 wins including 266 Group 1 and 762 stakes victories, from humble beginnings back in 1953.
But for most Australians it will be his dominance of the Melbourne Cup that they will remember him for.
From his inaugural Cup run back in 1958, to his first win in a 1-2 finish with Light Fingers and Ziema, in 1965 (which he back up with Galilee in 1966 and Red Handed in 1967), through to his final cup victory with Viewed in 2008, Cummings, the 'Cups King' won 'the race that stops a nation' a staggering 12 times on that first Tuesday in November.
Ad. Article continues below.
Despite being (somewhat ironically) allergic to horses and hay, for Cummings, born 1927, training was the family business. Father Jim was an accomplished trainer who himself won the 1950 Melbourne Cup with Comic Court.
Cummings honour list reads pretty long too.  In 1991 he was inducted into the Sport Australia Hall of Fame and was also the inaugural inductee into the Australian Racing Hall of Fame.  He was made a Member of the Order of Australia in 1982 for his services to the racing industry and in 2007 has his image emblazoned on an Australia Post stamp as part of its Australian Legends series. 
Privately, he was also a stayer, with wife of 61 years Valmae by his side until the very end.  For the father, grandfather and great-grandfather, with eyebrows to rival former Prime Minister John Howard's, the track will always be Cummings' spiritual home.
As the tributes flow in from racing bodies and industry stalwarts from around the globe, no doubt this year's Cup, only a few short months away, will mark his passing with a special celebration and remembrance of his life and amazing contribution to the sport.
Are you are a horse racing fan? Which of Cummings' wins below do you remember? Did you have a win with any of them?
Ad. Article continues below.
Melbourne Cup winners
Light Fingers

(1965)

Galilee

(1966)

Red

Handed

(1967)

Think Big

(1974 & 1975)

Gold and Black

(1977)

Hyperno

(1979)

Kingston Rule

(1990)

Let's Elope

(1991)

Saintly

(1996)

Rogan Josh

(1999)

Viewed

(2008)