The fastest train ever makes rail in Australia interesting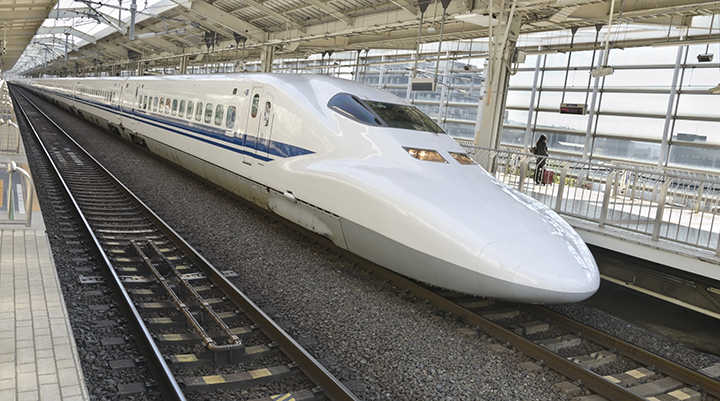 On a test track in Yamanashi prefecture, JR Central's Maglev train hit 590km/hr on Thursday, breaking the previous speed record set by the same company 12 years ago.  It is a phenomenal engineering feat by the masters in rail travel.
Having zigzagged across the Land of the Rising Sun, I can personally vouch for the ease and great efficiency of travelling Japan via their glorious train network.  From the famous shinkansen or bullet train to the local metro lines, rail travel in Japan is as much a part of everyday life as saying 'G'day' is in Australia.  There's not too many places you can't go on a train and it doesn't take you long to get there.  The quite, comfort and affordability make it the transport of choice for the vast majority of Japanese commuters and travellers.
Steam down a few thousand miles south to the Land of Oz and the once glorified mode of travel, is struggling against the sheer vastness of our country, the sprawl of our biggest cities' urbanisation and the failure of infrastructure spend to keep up with a rapidly growing country.  Maybe that should read 'spend on roads at the expense of expanding rail'.
Still, the concept of a high speed rail network – largely between Melbourne, Sydney and Brisbane – continues to be debated.  But, do we need it? Are people really going to use it? Wouldn't it be quicker and more cost efficient to use the airports we already have?  They're all interesting questions, seemingly without answer or common consensus.
On Japan's most popular intercity transit, it takes under two and a half hours to travel between Osaka and Toyko – a distance of 515 kilometers – on the shinkansen which can travel at speeds of up to 320km/hr.  The 2013 High Speed Rail Study Phase 2 Report, suggested that high speed travel between Sydney-Melbourne and Sydney-Brisbane would take approximately two and three quarter hours.   Whilst this might seem a bit dreamy compared to the current travel time of 11 and 14 hours respectively, the high speed network is reputed to come at a cost of between $61billion and $108billion!
Ad. Article continues below.
That's quite a lot of money and we ask ourself where does that come from and at the expense of what?
Currently a one way ticket (cattle class), from Brisbane or Melbourne to Sydney will cost you around $130 – comparable to that of a non-discount airfare.  There's wait times at the airport or station with both modes of transport, so too are there the additional cost and time of getting there.  Australia isn't peppered with frequent, highly populated centres like Japan or large parts of Europe. We know it might be more suitable to those with a fear of flying, but we are struggling to see a valid or economical reason why this continues to be debated.
What do you think?  Is it a valid debate for Australia to have?  Is it likely to have the patronage, therefore economic viability, of similar models overseas?  Would you choose to travel in between these centres by train?