The Facebook post everyone is talking about!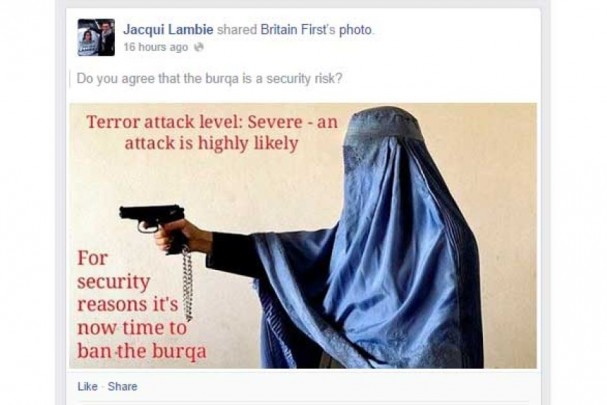 Jacqui Lambie has again stunned the country, first by posting an anti-burqa Facebook post with a woman who was gunned down by the Taliban in 2008, then by defending it with a series of statements that would not only horrify any innocent Muslim residing innocently in Australia, but also any multi-cultural supporting Australian.  And I don't think we should be laughing about it anymore.  Do you?    She has called it an ABC beat-up on herself as a "soft political target"… But I ask you, is it right for politicians to be stepping so far into controversy without understanding their subject matter properly?
This morning everyone is talking about Lambie's statements on the ABC Insiders that Islamic Law involves terrorism, and that the burqa is a national security risk.
The Senator who made a national spectacle of herself by backing Clive Palmer's anti-Chinese rant with even stronger anti-Chinese statements is setting herself up as our most extreme national racist at a time when people in our country need to understand the difference between self-titled islamic extremists and moderate muslims who are simply practicing their choice of religion, something which has always been encouraged and supported in Australia as a human right.
Ad. Article continues below.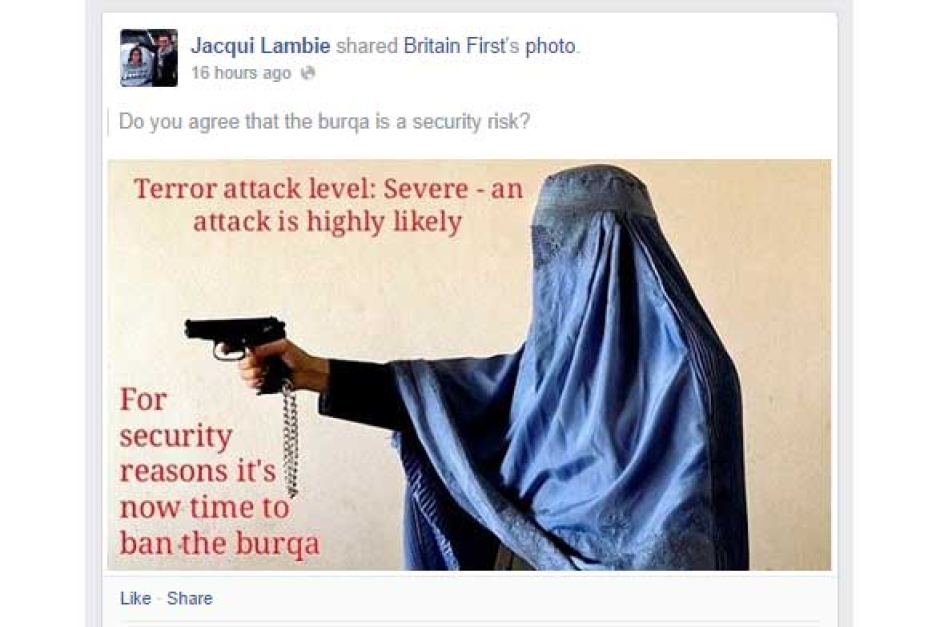 Despite committing herself to the anti-burqa movement vocally in recent times, Lambie embarrassingly struggled to explain what Sharia Law is on national TV and to land a sensible opposition to it.
"Well I think when it comes to sharia law, to me … it obviously involves terrorism … involves a power that's not a healthy power," she said.
"Sharia law, you get it mixed up in … well if you're going to be a supporter of sharia law and you're not going to [pledge] allegiance to our constitution and Australian law then…you have that extremism when it comes to sharia law.
Ad. Article continues below.
Then, after denying she had a "problem" with Muslims, added: "If you're an extremist towards sharia law then you have no place in Australia."
Lambie backs her ongoing commitment to banning the Burqa and her controversial sharing of the photo which the original photographer says is offensive.  The picture of a Muslim policewoman wearing a burqa and holding a gun is of Malalai Kakar, Afghanistan's first female police officer, who the Taliban gunned down in her car in 2008. Malalai has been widely recognised for her position on Womens' rights.
"I believe it's a national security issue and it's a security issue and it's just like anything else. It's like a motorbike helmet or it's like a balaclava. You cannot wear one. I will not allow you to wear that into my office because it's a security risk," she said.
Senator Lambie has said to the ABC that their story is "a disgusting, unprofessional beat up – which will embolden and put a smile on the faces of the sharia extremists".
"I hope the ABC and the photographer now put as much energy into attacking the extremists and their disgusting and appalling behaviours – as they have into a soft political target."
Ad. Article continues below.
Incidentally, for those who don't know what Sharia Law is, we have provided a definition below.
What is Sharia law?
Sharia law (Arabic: شريعة) is the body of Islamic law. The term means "way" or "path"; it is the legal framework within which the public and some private aspects of life are regulated for those living in a legal system based on Islam.
Share your thoughts today… But as you do so please remember that we do not tolerate racial discrimination on Starts at 60, so keep it tasteful and without personal affront.