The cheap, economical three wheeled car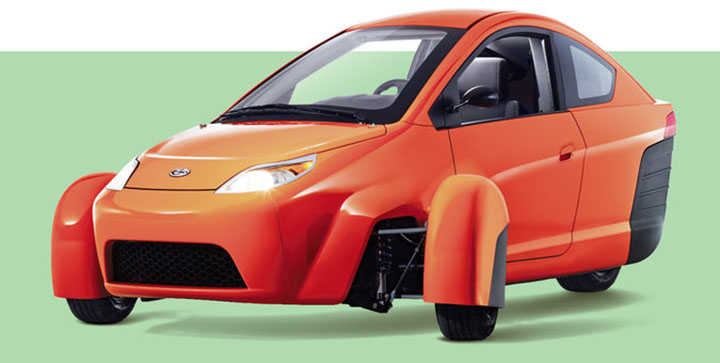 Americans have lined up to pay cash to get on the waiting list for a completely new looking, three wheeler car at the recent Consumer Electronics Show in Las Vegas and it might just have you tempted.  It's cheap, economical, and seats two people – tick tick tick for most retirees.
The two-seat, three wheeled invention made by Elio Motors is a low priced, incredibly fuel efficient car that runs with a petrol engine and can travel about 35 kilometres on the highway for a litre of fuel.
Each Elio comes equipped with a Safety Management System that includes three airbags – a reinforced roll-cage frame, Anti-Lock Braking System, and 50% larger crush zones than similar vehicles.
And entertainingly, their in-house science geeks broadcast that Elio will emit even less harmful emissions in the atmosphere per year than the average flatulent cow.
Ad. Article continues below.
It is not yet available in the US, but when it is, it is to be priced at $6,800 USD, and people are paying now for the privilege of being on the waiting list.
There is already 40,000 people who have paid to get on the waiting list according to the VP Sales, who was quoted in a New York Times article.  And this is before the car is to be featured at the New York International Auto Show, later this month.
The first Elio was meant originally to be delivered in 2014 but this has been delayed due to struggles with capital raising and access to production facilities, pushing the launch date back to 2016.  So while there is no car to sell, people are lining up to get on the waiting list and they are offering a "refundable" or a "non-refundable" position on the list with the non-refundable getting priority over the refundable for the same amount.  Sounds a bit cheeky to me.
What do you think of this, the cheap three wheeled, two seater car?  Could it be the solution for retirees looking for a low cost, local driving, cheap to operate vehicle?