The Bronwyn Bishop scandal has officially been taken to the next level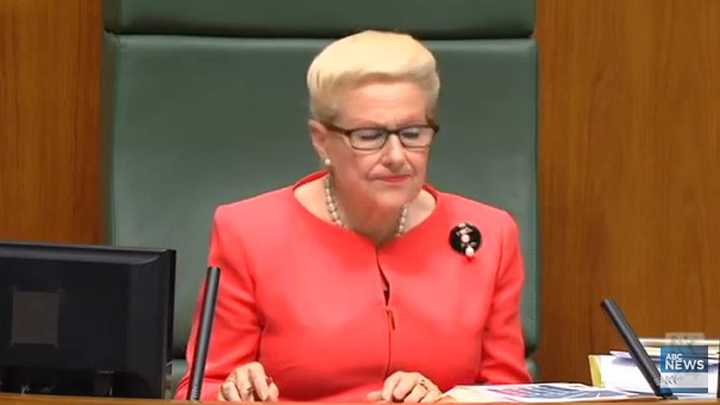 The plot thickens for Bronwyn Bishop and her misuse of taxpayer funds…. a $6000 luxury flight was found on her record.
It's renewed calls for the disgraced Speaker to be given her marching orders yet Tony Abbott says he's supporting her and she's definitely sorry for what she's done.
This morning the PM broke his silence to give a speech that frankly let almost everyone down. On breakfast radio this morning, Mr Abbott said that he will still support Mrs Bishop, although "if there is one lesson that every single politician must have had reinforced by all of this, it is that you cannot get away with exploiting the rules".
"Anyone who saw her on television yesterday would know that this is a very, very chastened person indeed", Abbott said of the Speaker's delayed apology.
And as the public service rigorously audits Bronwyn Bishop's expense claims, the more comes out, with the newest revelation showing she took a luxury aircraft late last year from Sydney to Nowra, 160km in distance. It cost taxpayers $6000.
Ad. Article continues below.
"The Department of Finance is reviewing all of her expenditures going back 10 years and obviously if there is anything which is outside the rules it will be repaid instantly with penalties. So, I am utterly determined … that the rules will be enforced," Mr Abbott said.
He also wanted to wait and see what else came out of the woodwork, but some Liberal MPs have had enough of his laidback approach to Bronwyn Bishop.
"So, a lot has happened and let's see what else might emerge out of the review that is going on now," he said.
Opposition leader Bill Shorten couldn't hide his disgust when asked to comment today, saying, "These reports take the seriousness of Bronwyn Bishop's misconduct to the next level.
"If Mrs Bishop's personal relationships influenced her decision to repeatedly hire a particular company, then that is incredibly serious".
Ad. Article continues below.
He said Tony Abbott is ignoring the Australian people and "rather than punish Bronwyn Bishop, he's rewarding her by keeping her as Speaker. Tony Abbott rewarding Bronwyn Bishop is an insult to the millions of Australians who are disgusted by her behaviour".
Tell us, who do you agree with? The PM or Mr Shorten? Do you think enough is enough? Or should more of Bronnie's dirty laundry be aired for all to see?