The Blue Arsed Fly: Sydney streets and the good old ship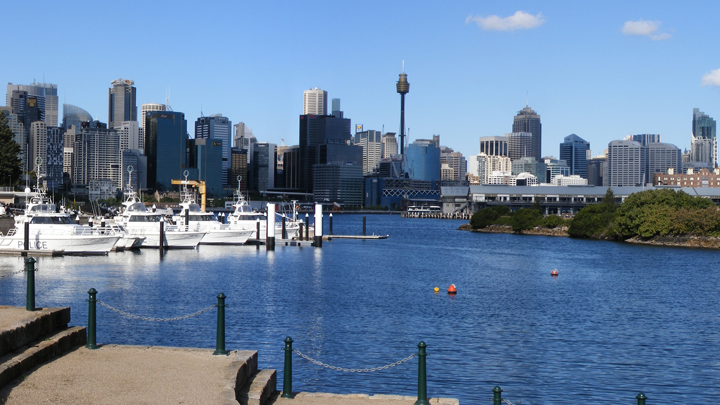 The Blue Arsed Fly is a wonderful grey nomad travel series by Bruce Hathaway and his wheelchair-bound wife, Elaine. If you'd like to read his previous blog, you can find it here
We rang the factory, the problem is likely to be the pressure valve but it could be the water pressure is too high, but it's a new unit. To stop the leak we're on tank water and I'll see if the problem is still there at the next stop. So me hearties stand by for the next episode between Fate and the Hathaways, what will the next problem be? Your guess is our next disaster!
So me intrepid friends, off we went the next day for lunch at the Medowie Macadamia Farm where we had bacon and vegie quiche (remember Collingwood supporters don't eat quiche) with salad and a cold macadamia milk shake set us back $20 each and very nice they both were. We also bought 800 gms of nuts for $28 which is considerably cheaper than the macadamia castle north of Ballina.
Last day in Nelson Bay for the first time this trip – it rained so it turned out to be a washing, get-everything-ready-to-go day, but we did manage to have lunch at the NB West Diggers Club – it was the old RSL but the West Tigers took it over. Mother had roast pork, I had what else but the chicken schnitzel. Cost $22 but I think the bloke charged us members price and not visitor price, the meal was nice anyway.
Ad. Article continues below.
Onward we went, up anchor and away making for Sydney via a stop to visit a Navy mate in Toronto. Stayed at the Lane Cove caravan park at $35 p/n with senior's discount; slab site with O.K. amenities, as well as disabled amenities. Next day took our lives in hand and drove into the city, we headed for Garden Island Naval Base. It wasn't like I remembered it 45 years ago. We stopped at the famous Harry De Wheels on the wharf area for their famous pie with peas. It was over 45 years since I had one and for the missus it was her first which she liked, the peas were the same but the pies were a little chunkier than I remembered. Then drove through The Cross and boy that has changed too, no Chevron Hotel half way up the Hill, no Les Girls and no Pink Pussy Cat strip club. Arh the times have changed me hearties.
Then drove down William Street past where the brothels used to be in the side streets on the left and are now all modern stuff and onto the Australian Museum. We wanted to see the Aztec Exhibition but blow me down with a feather you couldn't get a disabled park or ordinary park within cooee of the place. That's when the fun started, I drove into the city proper and maties for those poor souls that live in Sydney and have to drive through the centre I "doffs me hat" to you all. Fair dinkum no wonder there so many psychiatrists in Sydney they must have to treat a lot of neurotic motorists. Of course I hadn't a clue where we were, also not having a clue of how to get back to the bridge, there are so many one way streets there that even a rabbit would get lost straight away. Being a jack rabbit of sorts I of course got lost, up a one way street, turned left down another one way street, can't turn left, can't turn right and three bags full sir.
Ad. Article continues below.
When I could, I finally turned right because that way was the general direction of where the bridge was. And guess what me luverlies? Me girlfriend must have smiled on me because it led straight onto the bridge and we escaped the cities clutches. But wait there's more, next day we took our valium pills and headed back into those tall canyons of glass and steel again. Same old story: nowhere to park for the disabled at the Opera House, took a drive to the Rocks same story again so drove to Darling Harbour. Found the Maritime Museum and joy of joys they had a disabled park and much more joy than that I was able to look through HMAS Vampire; never served on her but did on her sister ship HMAS Duchess 44 years ago. While there were differences, it brought a tear to this old sailor's eye and I nearly saluted as I left the ship.
Finally admitting that trying to find a park, let alone a disabled one in Sydney, we bid a fond farewell to that town and headed south, our aim was to drive as far as we could and stop which was in Holbrook. We stayed at the Holbrook caravan park, a Top Tourist park – $30.60 with discount on a slab and grass site – amenities small and clean. Stayed hitched up for the night and then went on to Yarrawonga where we had lunch with a friend and headed home.
Have you had trouble driving in Sydney? How do you get around? Have you visited any of the other places the Blue Arsed Fly went to? Tell us your stories below!