The Blue Arsed Fly: sorry, neighbours!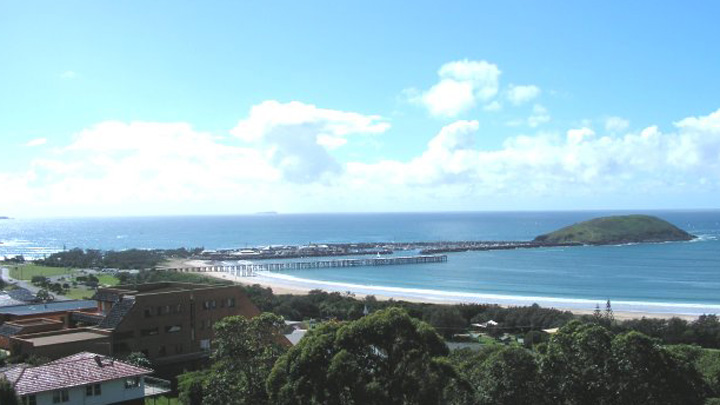 The Blue Arsed Fly is a wonderful grey nomad travel series by Bruce Hathaway and his wheelchair-bound wife, Elaine. If you'd like to read his previous blog, you can find it here
Just a little snippet on Byron Bay: the third day we were there we went to the Services Club for lunch – we both had fish and it cost us $31. We were also told that the local brewery has $10 meals but did not avail ourselves of the privilege. I'm afraid dearies that tourist meccas are not for this Blue Arsed Fly, I'd rather a nice sedate caravan park where you don't have to jostle with a myriad of strange people in town (I of course am not strange at all). Am I alone in this thinking? I hope not!
Next destination, me luverlies, is Coffs Harbour at the Park Beach CP where we stayed at on the way up, but when I booked on leaving a few weeks ago they only had an ensuite drive through site available so we took it; it cost $65 p/n. This time we stayed three days and, on arriving, sat and propped. The next day was Saturday and for you atheists, it's Grand Final day in the real world (I'm almost an atheist as the Magpies aren't in the final). Now there was no chance we were going anywhere that day because, you see, Mother barracks for Sydney (actually it was South Melbourne before they became Sydney). Both of us come from Port Melbourne, which is the suburb next to South Melbourne by Port Phillip Bay.
Now the missus is the most placid of women except for one minor detail, when it comes to football and Sydney…she turns into a raving lunatic. Now maties I've been there and done that and am an old sailor so I had my fair share of adventures as you might imagine, but when it comes to barracking, Mother scares the hell out of me. So I carefully made my plans to escape for the day, calmly I explain that when the footy starts I'll be going shopping to pick up some victuals for the trip. That way I have a legitimate excuse to not be around when she goes off her rocker. Of course when I get back I'll have to apologise to the neighbours and hope they'll forgive us. Please God in your wisdom let Sydney win, I hope SHE hears me and answers my pray with a yes, after all heaven is painted red and white isn't it.
Ad. Article continues below.
Well it goes to show that not all prayers are answered with a yes and after sulking in the corner for a while, life continues.
Sunday we went for a drive to Dorrigo, south along the Pacific Highway and turned right to Bellingen following the Bellingen River. After Bellingen, which is an old fashioned type of town worth a stop and see, you head for Dorrigo and, ladies and germs, you take the winding road up the mountain and in some places it's a one way road. It's very big trip going between Dorrigo and Bellingen in a caravan so be very careful: we followed a big 3 wheel van up the mountain, it got up but very slowly. Going down you had better have very good brakes because you are on them all the way down. Use 2 on your brake controller for sure, there were a few vans going down as well.
When you get to the top of the mountain, it's quite a surprise to see there is a very big plateau on top and that's where Dorrigo is.
Have you visited Coffs Harbour? What happened there? What are your favourite memories? Tell us below!