The Blue Arsed Fly: crowds and stolen peanuts...the world is still turning!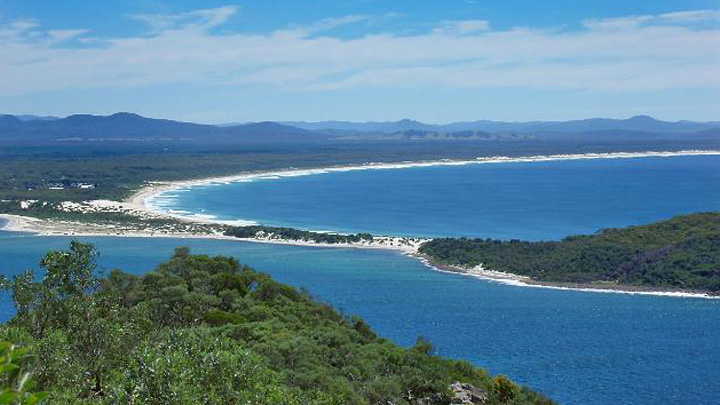 The Blue Arsed Fly is a wonderful grey nomad travel series by Bruce Hathaway and his wheelchair-bound wife, Elaine. If you'd like to read his previous blog, you can find it here
On Sunday we moved further south to the Halifax Holiday Park in Nelson Bay, just north of Newcastle for 4 days. Fair dinkum if I thought Byron Bay was a tourist mecca, Nelson Bay is just as bad or even worse, there was humanity everywhere and even a few humans. The cost for 4 days was $204 or $51 p/n with a double slab site the amenities were good, you know what we did as soon as we anchored but by geez it was hard to get there as the info centre is on the beach and the whole world was trying to get a park. To park anywhere near the beach, once again you have to pay for the privilege. The missus spied a Sunday market so we stopped and had a squiz, it was hard yakka pushing the wheelchair in the sandy soil. While buying a banana and walnut cake, the owner spied a woman stealing a packet of nuts, chased after her and retrieved the nuts and told her to piss off.
Found out there are lots of beaches one can look at but the National Parks are car free so you cannot drive around them. Monday was a holiday and the last day of holidays so we waited for the mobs to go then bought some fish and chips and drove to Soldiers Bay and ate looking across Port Stephens back to Nelson Bay. On the way back, we drove to the lookout where the TV towers live; very good all round view from up there. But what was even more spectacular was the Gymea Lillies were flowering, they have one very large stem about ten feet high with a scarlet almost blood red flower on top, absolutely brilliant. Then it was a drive to Shoal Bay and Fingal Bay, there are a few caravan parks there but once again sardines come to mind.
Ad. Article continues below.
Now, if you're able-bodied, there are plenty of walks you can do but, being built for comfort and not for speed, I let others who have a stronger disposition and weak of mind do my walking for me.
Now mateys, don't get discouraged, the gremlins are still with us – I mentioned there is no power to the A/C, there is a switch on the wall near the bed that doesn't do anything, the toilet is too high for the missus to perch on and I've busted the jockey wheel. So just to keep you up to date, me girlfriend (I'm trying to get on her good side) Fate (or is that Fart?) has still got her eye on me. So she must have realised she hasn't thrown a spanner my way for a couple of weeks so rectified that oversight. Now the hot water service is leaking like a sieve, it's a sealed unit so I can't get to it, I've turned off the heater but it's still leaking. The problem is it's a holiday in Victoria so I'll have to wait until tomorrow to ring the factory.
So there you are: things are back to normal, we have another disaster and the world is still turning.
Where do you like to travel to? Do you prefer the hustle and bustle of tourist spots or quiet serenity? Tell us below!