The blatantly honest cancer cards that are putting smiles on faces everywhere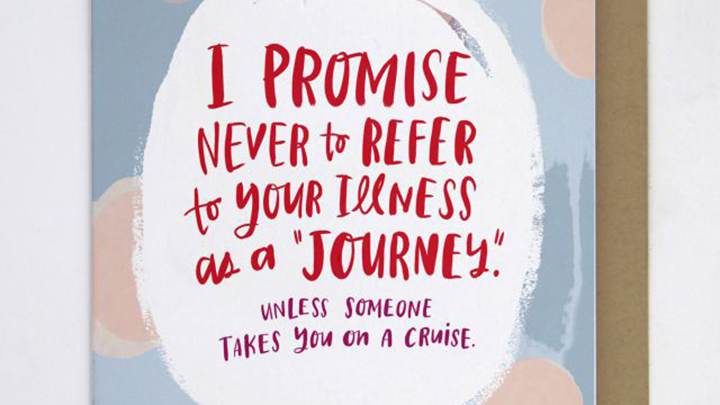 Being diagnosed with cancer is heartbreaking. It marks an uncertain point in your life when you don't truly understand or have any way of knowing what lies ahead. It marks the point in your life when you ask yourself the questions about who you are, what your worth is and whether or not you still have the time and chance to change the world how you'd like to. But most heartbreaking is that it often marks the point in your life when you feel most alone.
The treatment of people with cancer has almost a taboo stigma in modern day society and this comes from others not knowing what to say, what to do or how to help. While the sufferer feels helpless, so do the people around them and often the right words to say seem so far away.
There's one woman in the United States who has made it her mission to change this and who hopes her cards can say the things people want to, without them actually having to do it.
Emily McDowell is a cancer survivor after discovering she had stage 3 Hodgkin's lymphoma. In explaining these cards she said the most difficult thing about her cancer was, "the loneliness and isolation I felt when many of my close friends and family members disappeared because they didn't know what to say, or said the absolute wrong thing without realising it".
So for all of those who've had cancer, tell us which one of these cards resonates most with you? For all of those who have loved ones going through the battle against cancer tell us, which one would you most like to give to someone? What do you think about these beautifully blatantly honest cards? 
Ad. Article continues below.
All cards are available for purchase via www.emilymcdowell.com/