The big names in politics call for mercy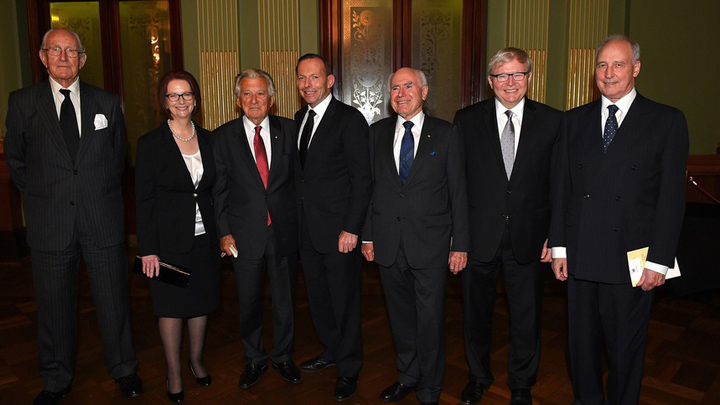 Over the last few months, there has been intense media coverage of Andrew Chan and Myuran Sukumaran, the Bali Nine pair on death row in Indonesia. The Indonesian president has said, in no uncertain terms, that he will have no mercy for those who have trafficked drugs or been involved in the trafficking of drugs to or from Indonesia, yet still, we are pleading for mercy even when all hope seems lost. What is this saying about us as a nation?
President Widodo's hardline stance has been counteracted by support from all over the world from those who believed the two men should be spared from execution. Vigils and even a concert have been held to show opposition to the death sentence.
In the last few days, Tony Abbott has stepped up his involvement in the case, going on the record several times to share his thoughts about the situation, yesterday saying he felt sick in his stomach when he thought of the men awaiting their deaths. What's most interesting, though, are the pleas for mercy by some of our former prime ministers, including John Howard. At the eleventh hour, it feels almost too late for supporters of the men to come forward now, however it seems like many have been opening their hearts and feeling compassion for Myuran and Andrew in their time of need.
Six former prime ministers expressed their views in a rare show of political unity, with John Howard saying, "They committed a very serious crime but have demonstrated genuine rehabilitation. Mercy being shown in such circumstances would not weaken the deterrent effect of Indonesia's strong anti-drug laws". Mr Howard was the prime minister at the time of the men's arrests.
Julia Gillard also showed her support and said, "I personally would find it heartbreaking if such extraordinary efforts to become of good character were not met with an act of mercy, of recognition of change". Kevin Rudd echoed these sentiments, saying "As a deep, long-standing friend of Indonesia over the decades, I would add my voice to my prime ministerial peers, and respectfully request an act of clemency". Mr Rudd was the foreign minister for several years and sought clemency (unsuccessfully) for Van Tuong Nguyen, who was executed in Singapore in 2005.
Ad. Article continues below.
Bob Hawke was known for his commanding presence and it was moving to see he and other prime ministers rally together. He backed Andrew and Myuran and said, "These two men made a mistake when they were young and foolish. They have served their incarceration with model behaviour, and I therefore urge and plead that the government reconsider its decision to now take their lives". Meanwhile, Paul Keating described the death penalty as "a monstrous act which provides no atonement for a crime … and for that reason, the Indonesian government should heed the appeals for clemency in respect of the two Australians in its charge", according to The Australian.
Malcolm Fraser took a slightly different stance and was more realistic about the Australia government's ability to change the minds of Indonesia: "We face an extraordinarily difficult, if not impossible, task if we seek to impose our value system on other countries. Suggestions that our ambassador should be withdrawn if, according to Indonesian law, the executions tragically take place, are extremely foolish".
Today there has been a slight glimmer of hope, with the postponement of Sukumaran and Chan's transfer to the Nusakambangan prison, but it still seems that even some of the most influential leaders in Australia's history cannot influence the situation.
Here are some tweets from those in support of the men. Some are calling for a boycott of Bali:
Ad. Article continues below.
Thank you @JuliaGillard @MalcolmFraser12 @MrKRudd @TonyAbbottMHR John Howard, Bob Hawke & Paul Keating Standing for Mercy. #IStandForMercy

— Mercy Campaign (@MercyCampaign) February 16, 2015
Once little boys, then just stupid boys, now rehabilitated young men with so much to offer #IStandForMercy #Bali9 pic.twitter.com/igayFIbml0

— Kate✏️ (@investormum) February 13, 2015
Bali is one of my fave destinations but #IStandForMercy and as a matter of principle I must #boycottbali. I'm not ok with murder, are you?

— Fernanda de Paula (@Fesoca) February 13, 2015
Ad. Article continues below.
Australia's former Prime Ministers unite against Bali Nine death sentence #sbsnewswrap http://t.co/667gtYP1hB pic.twitter.com/JT1nGI1ppq

— SBS News (@SBSNews) February 16, 2015
Via @QandA: @TurnbullMalcolm tells Indonesian President @jokowi_do2 "it is not a sign of weakness" to spare #BaliNine http://t.co/3zvtQlXtze

— ABC News (@abcnews) February 16, 2015
Image source: Mashable
Do you think these new statements will really get through to the Indonesian government? Or is it only being done after there were calls by the public to do more for the duo? Is persistence in this way going to work in our favour?