The bad blood between Kevin Rudd and Malcolm Turnbull continues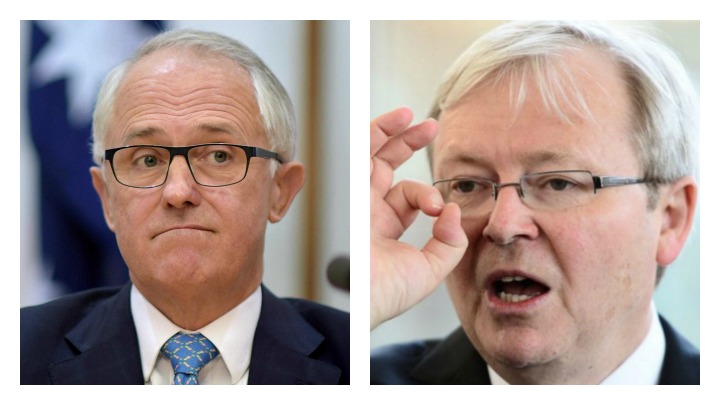 Ever since Malcolm Turnbull shot down Kevin Rudd's hopes and dreams of becoming Secretary General of the United Nations there has no shortage of bad blood between the two men.
Following revelations the cabinet actually voted 11-10 in favour of Kevin, the former PM has spoken the News Corp and said Malcolm's 'Captain's Call' to shut him down was a "monstrous intrusion" of domestic politics.
"I respect the fact that the Prime Minister has the right to make these decisions and that goes without question," Kevin told The Australian.
"What I don't respect is, having pursued this campaign for United Nations secretary-general for such a long period of time in abso­lute good faith, to then see that good faith dishonoured and trust broken."
Never one to sit idly by, Malcolm has issued a blunt assessment of why he believes Kevin doesn't deserve the job, saying he has "neither the interpersonal skills nor the temperament to be a candidate".
Ad. Article continues below.
"I'm not going to get into a debate about Kevin Rudd and his various assertions. The facts are pretty clear and the decision was a correct one," he told Melbourne's 3AW radio.
"At all relevant times he knew that this was a matter for the cabinet, he knew there would be no guarantee that he would be nominated if and when he asked for such a nomination.
"He was certainly told in absolutely unequivocal terms in May that my estimation was that if he went to the cabinet he would not be supported and I told him why."
Defence Industry Minister Christopher Pyne also piped up, criticising Kevin for dragging out the story.
"It's all about Kevin, as usual with Kevin Rudd," he said.
Ad. Article continues below.
"Since the announcement that we wouldn't nominate him for secretary-general of the UN he has underlined why he is not a suitable candidate, because his behaviour has been quite extraordinary.
"The cabinet decided not to support him because, like you write a reference for a former employee or a friend, you shouldn't do that if you don't think that person is suitable for the job.
"I'm not going to get into what Kevin Rudd wants … which is a myopic discussion of Kevin Rudd and his future. The truth is he's no longer the prime minister, he's no longer in parliament, the cabinet is not nominating him for secretary-general of the UN, and everyone needs to move on including Kevin."
The decision has divided many voters with some saying Kevin was the best man for the job, while others say it's time for him to accept his fate and move on.
Either way, there have been suggestions both men are treading into dangerous territory, with Kevin only adding to reports he is 'power obsessed' and Malcolm tarnishing his leadership with a 'captain's call' similar to those made by the man he ousted, Tony Abbott.
What are your thoughts?
Should Kevin Rudd move on and stop talking to the press about it? Or was Malcolm Turnbull wrong to shut down his UN dream?