Thailand's King Bhumibol Adulyadej dies aged 88 after 70-year reign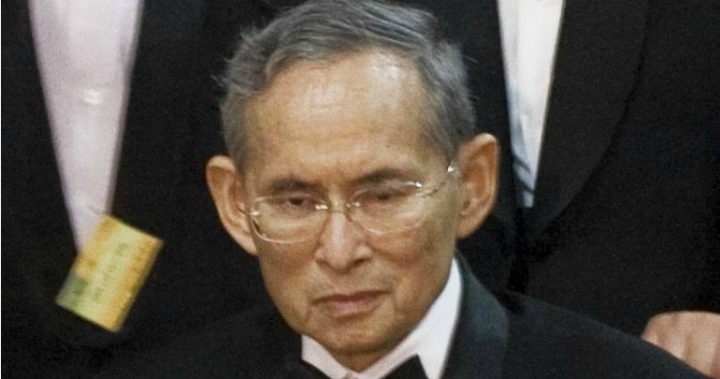 Thailand's beloved King Bhumibol Adulyadej, has died aged 88, the palace has confirmed.
"His Majesty has passed away at Siriraj Hospital peacefully," the palace said, adding he died at 3:52pm (local time) on Thursday, reports ABC News.
King Bhumibol Adulyadej was the world's longest reigning monarch leading the country for more than 70 years , but in Thailand he was viewed by many as more than a king. Majority of the Thai people regard him as a bodhisattva, or holy being who delays entering nirvana to aid the human race and to illustrate how much they loved him, his picture is hung in almost every house, school and office across the kingdom.
The King had been treated for various ailments over the past year at Bangkok's Siriraj Hospital — his home for much of the past year — and was last seen in public in January, when he spent several hours visiting his palace in the Thai capital. The palace did not give a reason for his death.
He was seen as a force for unity, and there have long been concerns that without him the country's divisions could worsen. King Bhumibol was just 18 when he took the throne unexpectedly in 1946 and his reign lasted for more than 70 years.
Ad. Article continues below.
Bhumibol was born at Cambridge Hospital (now Mount Auburn Hospital) in Cambridge, Massachusetts, in the United States, on 5 December 1927. He was the youngest son of HRH Prince Mahidol Adulyadej, the Prince of Songkla, and his commoner wife Mom Sangwan (later HRH Princess Srinagarindra, the Princess Mother). His U.S. birth certificate reads simply "Baby Songkla", as the parents had to consult his uncle, King Rama VII (Prajadhipok), then head of the House of Chakri, for an auspicious name. The king chose Bhumibol Adulyadej, meaning "strength of the land, incomparable power" (from Sanskrit भूमिबल अतुल्यतेज, bhūmibala atulyatēja).
Bhumibol came to Thailand in 1928, after his father obtained a certificate from Harvard. His father died of kidney failure in September 1929, when Bhumibol was less than two years old. He briefly attended Mater Dei school in Bangkok, but in 1933 his mother took her family to Switzerland, where he continued his education at the École nouvelle de la Suisse romande in Lausanne.
He received the baccalauréat des lettres (high-school diploma with a major in French literature, Latin, and Greek) from the Gymnase Classique Cantonal of Lausanne, and by 1945 had begun studying sciences at the University of Lausanne, when World War II ended and the family was able to return to Thailand.
Thai Prime Minister Prayuth Chan-ocha said that an heir to King Bhumibol had been designated since 1972, and later announced that the king's son — Crown Prince Maha Vajiralongkorn — had confirmed that he would perform his duties as heir to the throne.
But Mr Prayuth said that talk of King Bhumibol's succession should wait, and that the Crown Prince had asked for time to mourn with the Thai people.
Ad. Article continues below.
"When the right time comes, the Crown Prince confirmed that he has realised his duty and will continue to perform his duty as the heir to the throne," Mr Prayuth said.
"Let us wait for the right time."
Thailand will officially mourn for one year, and flags will fly at half mast for the next 30 days.
Our sincere condolences to the people of Thailand.
Do you have any message for the Thai people?