Tennis showdown as McEnroe, Kyrgios gang up on Serena Williams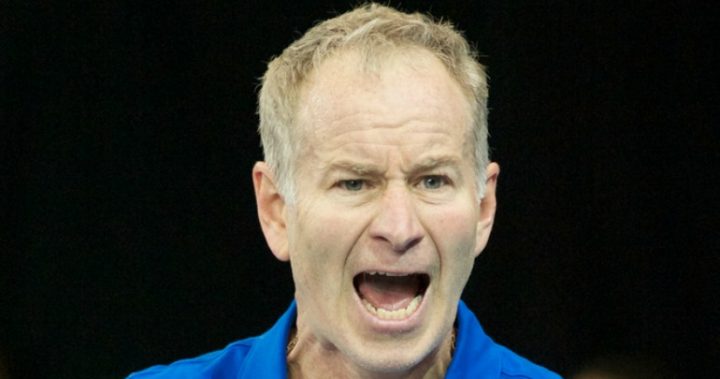 A row has broken out among some of tennis' biggest stars, after John McEnroe disparaged Serena Williams' abilities. 
In an interview with NPR, McEnroe was asked about earlier comments he's made about Williams being the best female tennis player in the world.
The NRP interviewer then asked McEnroe why he qualified his description, adding that some would say she's the best player in the world.
McEnroe didn't dice his words in responding.
"Well, because if she was in, if she played the men's circuit she'd be like 700 in the world," he answered. "If she had to just play the circuit — the men's circuit — that would be an entirely different story."
Ad. Article continues below.
He went on to say that he could probably, at the age of 60, still beat Williams in a match.
"Maybe at some point a women's tennis player can be better than anybody. I just haven't seen it in any other sport, and I haven't seen it in tennis," McEnroe added. "I suppose anything's possible at some stage."
Some sports writers backed his view, with one at USA Today saying there was "no reason to deny the truth".
"She would have no chance of beating the top men's players or, for that matter, the challengers or the also-rans," Josh Peter wrote. "Although Williams might have the athleticism to match some of the men, she has never faced anybody on the women's circuit who can match her in those terms, and thus her skills lag behind the men. "
But 3AW host Tony Jones differed, saying that Williams had the mental strength to beat a player such as Australia's Nick Kyrgios, who was, Jones said, "brittle above the shoulders".
Ad. Article continues below.
TJ has just made a BIG call about Serena Williams https://t.co/yI7onJdZ9D pic.twitter.com/PcwXpAofGp

— 3AW Melbourne (@3AW693) June 26, 2017
Fiery Kyrgios was quick to answer back, indicating he wasn't taking the comments too seriously.
And, we have officially seen it all ???‍♂️ https://t.co/blFOr6VhoP

— Nicholas Kyrgios (@NickKyrgios) June 26, 2017
Ad. Article continues below.
And Lleyton Hewitt tweeted his support, calling Jones, who's mockingly known as Chompers, "a goose".
Haha… @NickKyrgios ??? Good comment Chompers you goose! https://t.co/dqyYWH3bl9

— Lleyton Hewitt (@lleytonhewitt) June 26, 2017
As for Williams, she kept her response dignified because she had more important things on her mind.
Dear John, I adore and respect you but please please keep me out of your statements that are not factually based.

— Serena Williams (@serenawilliams) June 26, 2017
Ad. Article continues below.
I've never played anyone ranked "there" nor do I have time. Respect me and my privacy as I'm trying to have a baby. Good day sir

— Serena Williams (@serenawilliams) June 26, 2017
The world's most successful female star was attracting attention for a different reason in any case, having just posted a preview of the cover image for August's Vanity Fair magazine, which will feature Williams posing semi-naked in a remake of the infamous Demi Moore pregnancy photo.
Williams' first child, with fiance Alexis Ohanian, the founder of popular website Reddit, is due in September.
Ad. Article continues below.
Check out my Vanity Fair Cover. Question- what do u guys think boy or girl? I'm waiting to find out but would love to hear your thoughts. pic.twitter.com/Nnq4VKCu8N

— Serena Williams (@serenawilliams) June 27, 2017
What do you think about John McEnroe's comments?