Tennis giant-killer Peter Doohan dead, just 9 weeks after diagnosis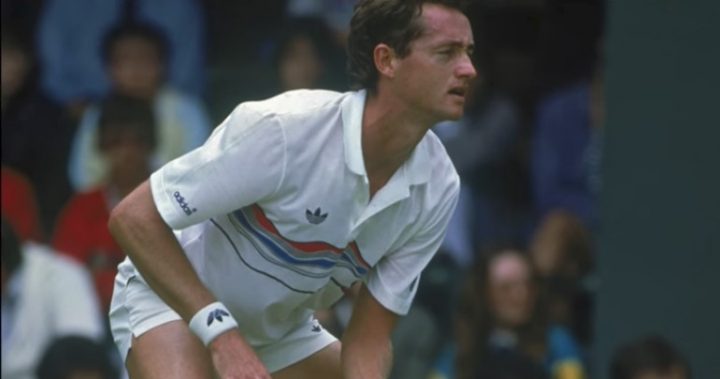 Tennis champion Peter Doohan, who was known as the 'Becker Wrecker', has died at the age of 56.
His death comes just nine weeks after he was diagnosed with an unusually aggressive form of motor neurone disease, Tennis Australia said in a statement. The player and coach is survived by his mother Thelma, his sons John, 26, and Hunter, 23, and his sisters Cathie and Margaret.
Just weeks ago, Doohan posted a Facebook tribute to Cathie, thanking her for travelling from her home in Adelaide to care for him during his illness.
Just after his illness was diagnosed, Doohan reportedly wrote to friends to say that 
Ad. Article continues below.
Doohan was dubbed the 'Becker Wreckler' after defeating two-time defending Wimbledon champion in 1987. The match ended Becker's hopes of keeping his Wimbledon title.
The German tennis great paid tribute to Doohan's passing on Twitter, calling him "the better player". Becker had reportedly reached out to Doohan in recent weeks to offer support after learning at Wimbledon last month that his former opponent was fighting for his life. 
RIP mate! You were the better player …#PeterDoohan pic.twitter.com/97I3wKF7Uo

— Boris Becker (@TheBorisBecker) July 22, 2017
My heartfelt condolences to the family of #PeterDoohan ! The tennis fraternity lost a great guy and wonderful player ! #tennisaustralia

— Boris Becker (@TheBorisBecker) July 22, 2017
Ad. Article continues below.
Fox Sport's head of television, Steve Crawley, recalled that he had caught the bus to Wimbledon with Doohan on the day of the Becker match.
"A beautiful man with no pretensions," Crawley tweeted.
The Australian's Courtney Walsh tweeted that he had spoken to Doohan only weeks ago, and that although the player was unable to talk and acknowledge that his own life expectancy was "very short", he was quick to thank the tennis community that had rallied around him. Pat Cash, Wally Masur and John Fitzgerald had been in touch, he said. 
Doohan reached a career-high ranking of No. 43 and was never beaten in any of his Davis Cup matches, Tennis Australia said. After his playing career ended, he coached in the US, but returned to live in Australia in 2009.
Ad. Article continues below.
Other tennis stars, commentators and fans also paid tribute to him.
Oh dear, very sad news of the passing of our Aussie tennis peer Peter Doohan. The 'Bear' a terrific player and true to himself. RIP Bear

— Paul McNamee (@PaulFMcNamee) July 22, 2017
Remembering Peter Doohan, and the moment he wrote himself into #Wimbledon history… pic.twitter.com/rx1fupV0ZN

— Wimbledon (@Wimbledon) July 22, 2017
Ad. Article continues below.
The Herald Sun reported that Doohan was the third prominent figure in Australian tennis to be diagnosed with motor neurone disease, with former players Brad Drewett and Angie Cunningham both dying from the disease.
Do you remember Peter Doohan's career-defining match against Boris Becker?