Tennis fans furious over Nick Kyrgios' brother's dodgy t-shirt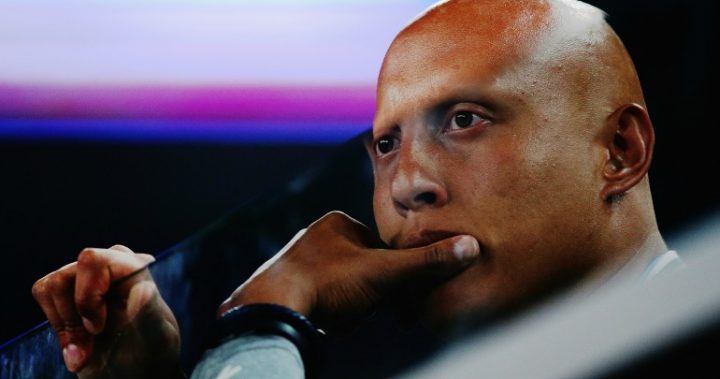 It sometimes seems you can't avoid betting advertisements in Australia – every ad break on free TV is full of them (sometimes twice!), it's on billboards, the sides of buses, and pretty much incessant on popular radio stations.
But on humans themselves? That's a relatively new one, but something that may be here to stay at our sporting events.
Betting house William Hill is one of the official sponsors of the Australian Open, but that didn't stop Nick Kyrgios' brother Christos from turning up to support the high-profile Aussie player with the logo of a rival betting company, SportsBet, emblazoned across his t-shirt.
Christos was regularly in full view of the television cameras, despite, as News Corp pointed out in its reports, a government ban on betting ads appearing on live, televised sporting events and radio before 8.30pm. The news outlet said Kyrgios' match started at 7pm.
It wasn't clear whether the tennis star's brother had a deal with SportsBet, though it seems likely given that the the shirt, which also had the words 'chill bro' printed on it, was clearly custom-made t-shirt, and the company was certainly happy to acknowledge Christos' move on its social media accounts.
Ad. Article continues below.
See Nick, listen to your brother! #AusOpen pic.twitter.com/KixG2duzab

— Sportsbet.com.au (@sportsbetcomau) January 17, 2018
But plenty of onlookers were quick to accuse Christos of inappropriately wearing the shirt in exchange for cash.
"Brother of Kyrgios rocking the Sportsbet t-shirt in the players box. Probably got a nice cheque to wear that crap. Not the best look," one Twitter user called MelbTiger Talk said, while another, Max Gibson, asked, "How many free bets did sportsbet give kyrgios' brother for wearing that t-shirt?".
Others pointed out that with tennis recently surrounded by scandal, what with the match-fixing allegations of recent years, plus the fact that the Tennis Australia stopped allowing William Hill – it's 'official betting partner – to run court-side advertisements in 2016, it was possibly not a great decision to permit Christos to wear the shirt. (It is, of course, possible that Tennis Australia was unaware he intended to do so, given that it's not difficult to hide a t-shirt under a jacket.)
Ad. Article continues below.
"How is Kyrgios' brother getting away with such blatant sports betting promotion at a live sports event?," a tweeter called ButteredFrog asked, while others were happy to just poke fun at the situation.
"Brother Christos is on his feet…"

He's on his feet because he's clearly getting paid to be! ???? #ChillBro #Kyrgios #AusOpen

— Trent Copeland (@copes9) January 17, 2018
Tennis Australia didn't immediately respond on Twitter to the tweets directed at it about the issue. Nick Kyrgios, meanwhile, defeated Viktor Troicki from Serbia 7-5, 6-4, 7-6, the ABC reported, to advance to the third round of the Open.
Such 'guerilla advertising' stunts aren't new. People have been invading public events, wearing branded clothing and even getting tattooed in the name of getting advertisers' names into the public eye for years. Nor is the habit of high-profile spectators wearing sponsors' logos at events. Nor, of course, is the concept of heavy branding at sporting events, with sponsors' names emblazoned on players' attire. 
Ad. Article continues below.
But sports betting and online gambling are sensitive topics in Australia, making it always likely that Christos' actions would attract more attention than, say, had he been wearing a sporting goods' sponsor's name.
What do you think about this kind of guerilla advertising of sports betting? Do we already have too much gaming advertising in the media in Australia? Do you think the advertising contributes to gambling addiction, or is that a personal issue unconnected to advertising?