Sydney woman waits almost three hours for ambulance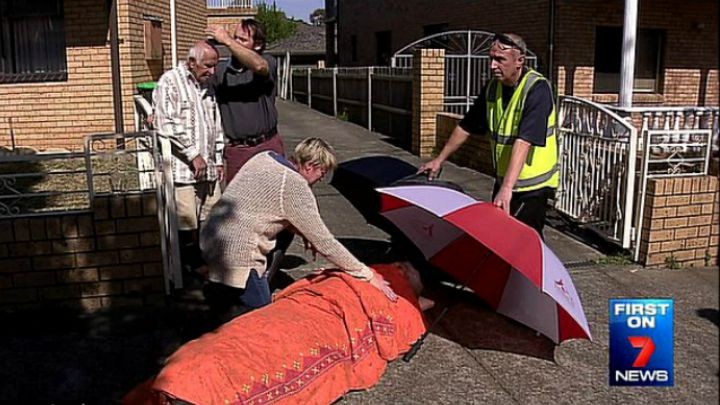 The New South Wales Ambulance service has been forced to apologise after an 83-year-old woman lay on the footpath outside her house in agony, waiting almost three hours for paramedics to arrive.
Francesca Werner fell outside her home, and was immediately helped by a neighbour, who phoned emergency services.
When no help arrived after an hour, the neighbour phoned again, only to be told they simply had to wait.
"They advised us that there were no ambulances available and even if you had chest pains they couldn't send anybody," neighbour Marea to Channel 7.
As Mrs Werner lay on the cold cement in the sun, neighbours and family members in the Inner West Sydney suburb tried to keep her calm despite the pain of what turned out to be a broken arm.
Ad. Article continues below.
Reports say Mrs Werner, who suffers from kidney disease, slipped in and out of consciousness as her helpers covered her with blankets and shielded her from the sun with umbrellas. She was dehydrated, in pain and understandably frightened.
Mrs Werner's daughter, Rosa Di Mento, said it was "extremely traumatic to see her on the floor, on the cold cement in that sun. It was obvious she had a very broken arm."
Paramedics finally arrived after two hours and forty minutes, administered pain relief and took Mrs Werner to hospital.
The NSW Ambulance Service apologised to Mrs Werner with acting chief executive, Commissioner David Dutton, saying the wait was "unacceptable".
He sent two of his senior managers to Royal Prince Alfred hospital to apologise to the patient and her family on Friday night, and an investigation is underway.
Ad. Article continues below.
The incident follows reports of ambulances queued up outside hospitals.
"We have ambulances lined up outside emergency departments; paramedics forced to wait hours with patients because there are no beds available. Because paramedics are forced to wait at emergency departments, they are unable to respond to emergency situations. This means that people calling for ambulances are forced to wait longer and that puts patient safety at risk," said opposition health spokesman Walt Secord.
"The time for excuses is over."
An ambulance spokeswoman said Friday had been a "very busy day with a lot of higher acuity cases so the lower cases were dropping down [the list]".
Mrs Werner was conscious and breathing with a limb injury, which did not put her in the most urgent category, the spokeswoman said. But, given her age, the wait was totally unacceptable.
Have you experienced an event that shows that our emergency services aren't coping? What needs to be done to prevent this happening again?