Sydney swelters through one of hottest days on record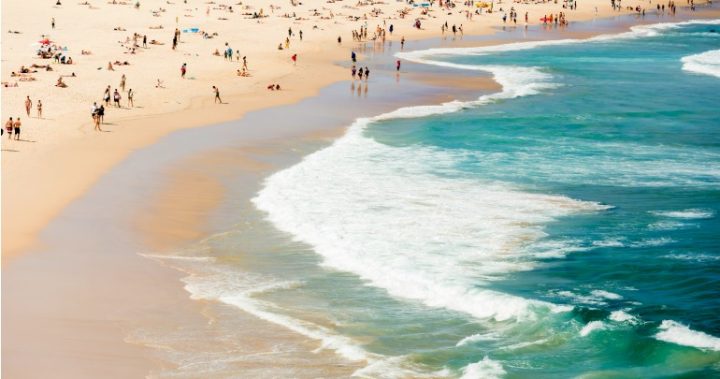 It's getting hot in here! Sydney has recorded one of its hottest days on record, sweltering through scorching temperatures above 40C.
Penrith reached a whopping 47.3C, it's hottest day on record, while the city reached 43.4C, its hottest in five years.
Sydneysiders flocked to the beach with thousands piling onto the sand at Bondi and the city's Northern Beaches.
Competitive umbrella real-estate in Sydney today… Penrith recorded hottest on record at 47.1°C and the City 43.4°C. Stay cool folks. #SydneyHeatwave pic.twitter.com/0gU6Zp33Ek

— Johanna Speirs (@johspeirs) January 7, 2018
Ad. Article continues below.
The NSW RSF issued a total fire ban for the Sydney area and the Hunter Valley. They recorded 18 fires across the state on Sunday with firefighters braving the heat to contain blazes.
Warnings were issued urging people to look after the elderly and babies in the heat and not to leave animals or people inside cars, even with the windows wound down slightly. Temperatures inside cars can be more than 20C hotter than outside and can kill.
Pet owners were also told to make sure animals had plenty of water and shade.
NSW Health warned Sydney is predicted to experience poor air quality tomorrow due to high ozone levels and little wind, which can be dangerous for asthema sufferers and those with chronic obstructive pulmonary disease.
Environmental health director Dr Ben Scalley, NSW Health, said ozone pollution caused by car exhaust and industrial fumes and gets worse on hot, still days.
Ad. Article continues below.
"Ozone levels reach their peak around 7pm in the evening and tend to be lowest in the morning, so it's best to plan outdoor play in the morning when the day is cooler," he said in a statement.
"Asthma sufferers need to follow their Asthma Action Plan and take their relieving medication where necessary. If symptoms get worse, asthma sufferers need to seek medical advice."
While there were plenty of safety measures in place around the city, there was also a good dose of fun, with many taking to social media for a laugh at the ridiculous heat.
One man joked about stepping out for an ice cream to find the entire van melted.
Went for an ice cream at Bondi but this was all that was left… #SydneyHeatwave pic.twitter.com/wl7TIEhvDT

— Christopher Taylor (@ChrisTaylorQld) January 7, 2018
Ad. Article continues below.
Others described what it felt like to step outside.
Stepped outside my front door and… 41.C/105.F #SydneyHeatwave pic.twitter.com/MoAEikhtUR

— Michelle (@MishWonderland) January 7, 2018
Thankfully, temperatures are expected to be marginally cooler for the rest of the week with BOM predicting the mercury to hit the low 30s most days.
Do you live in Sydney? What was the temperature at your place today? What's the hottest day you can remember sweltering through?