Susan Sarandon's daughter opens up about "traumatic" accident involving her newborn son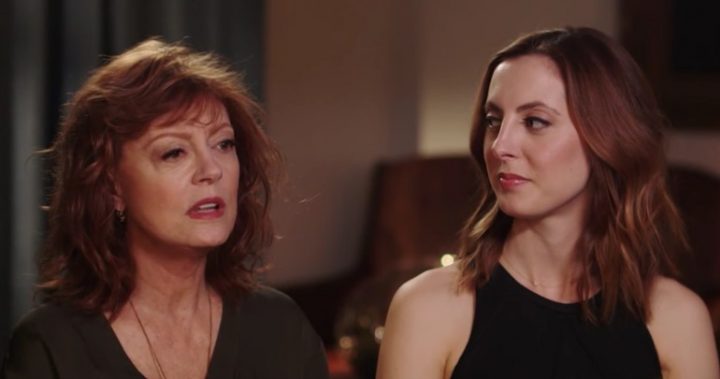 Becoming a parent, whether it's for the first or third time, can be a nerve wracking experience.
Do you remember all the things you felt after giving birth?
Well, if you're a mother you'll be sparing a thought for Susan Sarandon's daughter Eva Amurri, who has revealed a terrible accident that happened to her newborn son in November.
On her blog, Happily Eva After, Amurri revealed she's struggling with depression, guilt and struggling to trust others with her son Major after a nurse dropped him on his head and cracked his skull in hospital.
"A couple of days after Thanksgiving, our Night Nurse fell asleep while holding Major and dropped him, and he cracked his head on the hardwood floor," she wrote.
Ad. Article continues below.
"Kyle and I were sleeping at the time and were awoken by the sound of his head hitting the floor, and then hysterical piercing screams.
"He suffered a fractured skull and bleeding on his brain, and was transported by ambulance to Yale Medical Center where I spent two harrowing days with him to receive emergency care and further testing."
Ad. Article continues below.
It's an incident that would put many mums on edge, and while Major has recovered well, Amurri admits she's still "traumatised" by what happened.
"Even though I finally made peace with the fact that this freak accident could not have been avoided by me, it has continued to effect me to my core and in all aspects of my daily life," she wrote.
"It's nearly impossible for me to trust anyone but myself to take care of Major now. We definitely don't have night time help anymore, but it has only been in the past week or so that I have felt comfortable with somebody coming during the day to help me with him so that I can complete normal tasks and work responsibilities.
"Hearing Major cry hard immediately triggers my memories of the moments after the accident and instigates an immediate panic attack– my heart races and tears spring to my eyes. Sometimes I get dizzy spells. I feel nauseous and overwhelmed and even small discomforts he has make me anxious.
Ad. Article continues below.
"My appetite has decreased to nothing, I have a hard time getting to sleep after night time feedings, and my milk supply goes up and down depending on the stresses of the day. 
"Any time we are near an edge or a ledge, I fear that he will fall, somehow, and be hurt again. Just last week, we were on the second floor of a Starbucks, and I sat there panicked and frozen as I imagined Major falling from my arms over the edge of the banister and on to the floor below."
Ad. Article continues below.
For any of us mums who have suffered post-natal depression or watched our daughters go through the same thing, it's a situation we can relate to.
What advice do you have for Eva Amurri as she copes with this?