Susan Sarandon wows as Bette Davis on magazine cover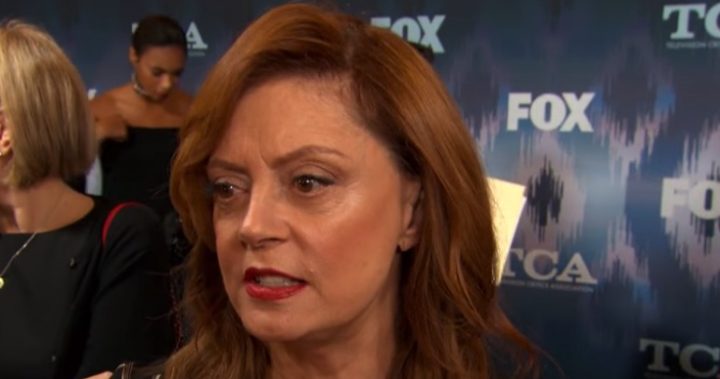 If you're a fan of Susan Sarandon or Jessica Lange then here's a moment you've been waiting several months for.
As you would know, Sarandon and Lange are playing Bette Davis and Joan Crawford in a new TV series about their long running feud.
The show has been under wraps for months, with only dribs and drabs of the actresses in character coming through.
But now they've both appeared in character on the cover of Entertainment Weekly magazine – and their similarities to Davis and Crawford are sure to make you nostalgic!
Ad. Article continues below.
As you might remember, Crawford and Davis had a long running feud on and off the set of the film Whatever Happened to Baby Jane? in 1962. 
Director Ryan Murphy's series Feud: Bette and Joan follows their rivalry and takes a look back at some of the glory days of Hollywood when the likes of Crawford and Davis reigned supreme.
Murphy told Entertainment Weekly that the show focused on more than just the feud.
"I wasn't interested in just doing this broad, campy [show]," he said.
Ad. Article continues below.
"I was interested in the idea of sexism, ageism, misogyny. Turning 40, 45, 50 and feeling like you're at the height of your powers and people saying, 'Well, you're done.""
The magazine includes interviews with Sarandon and Lange, who discuss their characters and some of the similarities and differences they found between themselves and their on-screen personas.
"I never saw myself as being one of the beautiful girls… So I kind of understood and related to that," Sarandon said about Davis.
But it was a different story for Lange.
Ad. Article continues below.
She described Crawford, who was raised in a poor home, abused by her mother and haunted her past, as her "polar opposite".
"She lived with that always," Lange told Entertainment Weekly.
"That great fear of poverty. She used sexuality as comfort, as a bargaining tool, as punishment."
Ad. Article continues below.
Feud: Bette and Joan also features Kathy Bates as Joan Blondell, Catherine Zeta-Jones as Olivia de Havilland, Judy Davis as Hedda Hopper, Sarah Paulson as Geraldine Page and Alfred Molina as director Robert Aldrich.
Watch the trailer below:

How great does Susan Sarandon and Jessica Lange look in character?! Are you looking forward to watching this series?