Susan Sarandon shows off cleavage in new music video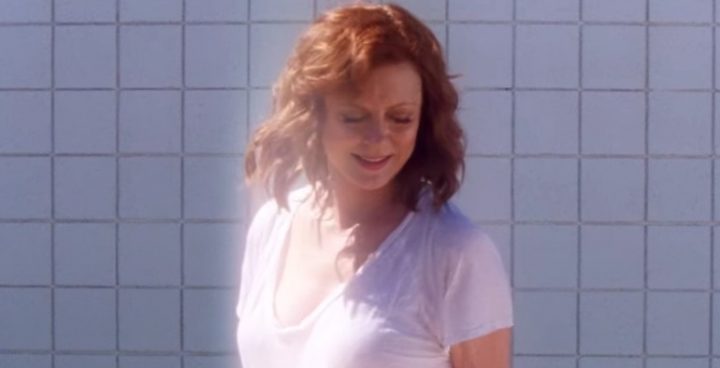 You might remember earlier in the year when Susan Sarandon showed off her cleavage at the Cannes Film Festival?
How about the controversy she caused when she showed off her cleavage while presenting the in-memoriam section at the Screen Actors Guild Awards?
Read more: Susan Sarandon steals the show with her cleavage in Cannes
Well, she's done it again – and this time she's giving us all a throwback to her Thelma & Louise days.
The actress appears in a new music video for the band Justice and it's her sex appeal that has everyone talking.
Ad. Article continues below.
70-year-old Sarandon appears at one point in the video dancing around in a low-cut white t-shirt and blue jeans.
And everyone seems to be talking about her cleavage, with some pointing out that she doesn't appear to be wearing a bra in the video clip.
Read more: Susan Sarandon's response to the cleavage naysayers is perfect
The video clip for the song Fire is being interpreted as being inspired by Sarandon's film Thelma & Louisa.
But instead of portraying Thelma, The Fix points to her role in the video as similar to that of Brad Pitt's role in Thelma & Louise – as the hunky stranger in the back seat.
Ad. Article continues below.
You might be wondering why Sarandon was cast to appear in the music video?
Well, the director of the music video Pascal Teixeira was quoted by The Fix as saying he chose her because she was an "iconic mix of cool, allure and strength".
You watch the video above.
Tell us what you think? Are you a fan of Susan Sarandon's sex appeal?