Susan Sarandon jokes about 'alternative constitution' in anti-Trump video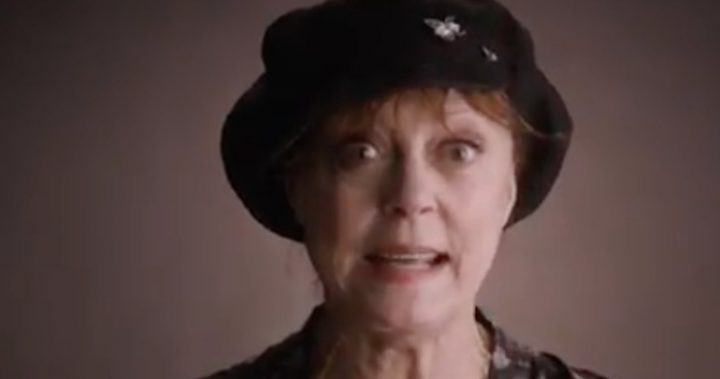 If you're a fan of Susan Sarandon, then you would know she's not afraid to get political.
She's been outspoken on a number of social issues, and had plenty to say during the US election campaign.
Remember her infamous "I don't vote with my vagina" comment?
Well, now she's joined a group of fellow celebrities to star in an anti-Donald Trump video – and it's poking fun at some of his actions as president, including the infamous "alternative facts" phrase everyone is talking about.
The celebrities make fun of Trump, claiming he's been reading from "an alternative constitution".
Ad. Article continues below.
In the video, Sarandon whispers that the "alternative constitution" has "dark magic protecting it".
The video makes fun of Trump's immigration restrictions, claiming he's been exposed to the "wrong Statue of Liberty".
"Give me your tired, your poor, your huddled masses yearning to breathe free, so that we may lock them in tiny rooms for days, only to send them back where we think they came from. Fear outsiders." the video jokes the Statue of Liberty says.
"Fear outsiders," Sarandon said. "Fear outsiders. Fear outsiders. It just keeps repeating that 'Fear outsiders' part."
While the video isn't making supporters of Trump laugh, it might just give you a laugh if you're a fan of Sarandon.
Ad. Article continues below.
Watch it below and tell us what you think.
Did it give you a laugh? Are you a fan of Susan Sarandon?