Susan Sarandon calls out media coverage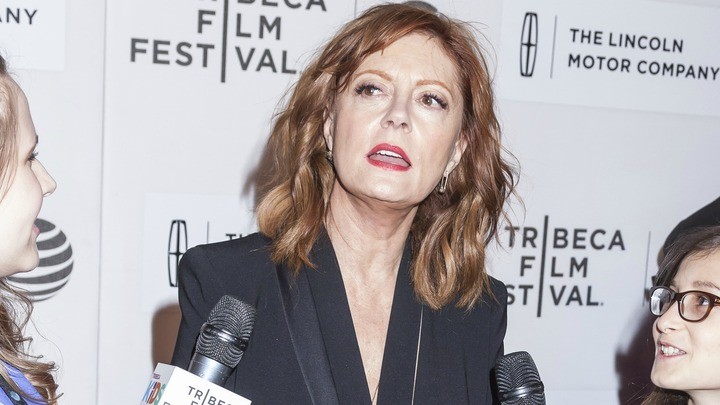 If you follow Susan Sarandon on social media or in the news, you know she's no stranger to sharing her views and standing up as an activist for different causes.
This time she's taking on the media and their coverage of Brad Pitt and Angelina Jolie's divorce.
In a post on Twitter, Susan called out CNN's coverage with a simple message.
"@CNN Priorities. #Terrence Crutcher," she wrote.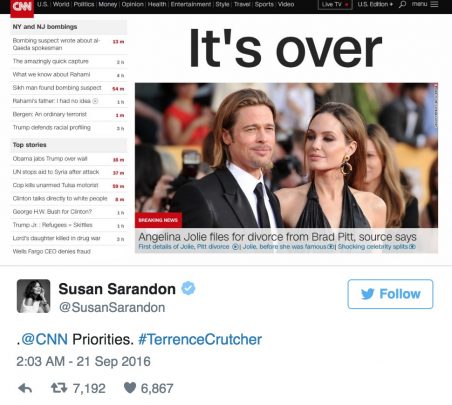 You be wondering what Susan means?
Well, instead of choosing the news of a shooting of an unarmed black man as their home page – CNN decided to give priority to Brad and Angelina's divorce.
40-year-old Terrence Crutcher is the latest unarmed black man to be shot dead by police in the US and if you've been watching the news, you'll see he's one of two killed this week – sparking riots in North Carolina.
Ad. Article continues below.
Susan Sarandon has been vocal in the #blacklivesmatter campaign on social media – recently defending a star football player who protested the national anthem at a game.
The 69-year-old actress's point revolves around the media's coverage of celebrities and celebrity divorces over what she views as more important issues.
You might be wondering how CNN has reacted?
Well, following the shooting of a second unarmed black man Keith Lamont Scott, they updated their home page.
But apparently the story focused on the #blacklivesmatter protests rather than the men's deaths.
Ad. Article continues below.
Sarandon later tweeted an article from the Huffington Post, using a quote from the article "Here's how many black people were killed by police since Colin Kaepernick started protesting".
Do you think Susan Sarandon has a point? Does the media focus too much on celebrity and not enough on the issues affecting every day life?