Susan Sarandon and Jessica Lange say what every woman over 60 is thinking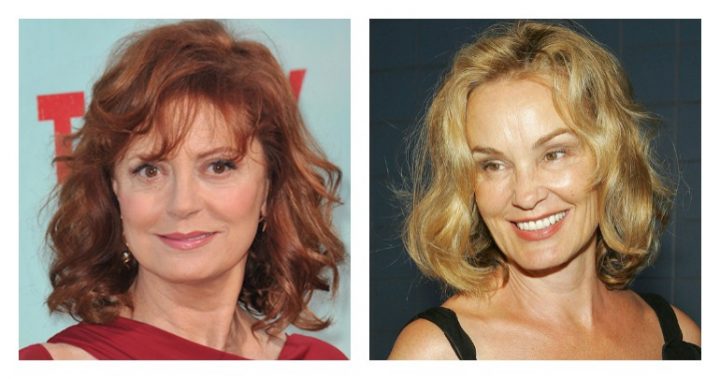 Susan Sarandon and Jessica Lange are known as two of the most glamorous women in Hollywood, but it turns out they're going through the same issue as many over 60s.
The two are starring in a movie about the legendary rivalry between Bette Davis and Joan Crawford and were speaking at a press conference when they brought up one of the most persistent issues over 60 women face today: ageism.
Many women can relate to the feeling of becoming more invisible as they age and feeling like they're not as valued as they used to be.
Some call it 'the silver veil', basically meaning that as we grow older, people seem to care less and less about us.
Ad. Article continues below.
For a long time there seems to have been a double standard with ageing, where men are still chased by younger women, hired for jobs and considered more capable than the opposite sex.
Of course many older men find they struggle with the issue too as they age, but it seems to be more prominent among women.
Speaking about the issue of ageism, both Susan and Jessica said they didn't think much had changed in the past few decades and that while we'd made progress in so many other areas, ageism wasn't one.
"I don't think it's changed that much really to tell you the truth," Jessica said.
"The line has been pushed," Susan replied.
Ad. Article continues below.
"[But] ageing actors still have the same problems. I can guarantee that."
"It's not necessarily a question of age or looks," Jessica went on. "I think it is who is interested in these stories. If the powers that be don't find there is anything valuable or interesting in a story about a woman of a certain age, those films aren't going to get made.
"Joan was 10 years younger when she did [Whatever Happened to Baby Jane?] than I am now, but her career was finished when she did this film."
"[What] part of what this film does is investigate what that does to a woman… Particularly Joan, who was known for her tremendous beauty. What happens when that beauty is no longer viable, because it's connected to youth?"
Ad. Article continues below.
She conceded that what women in Hollywood go through is just a fraction of the issues many other baby boomer women around the world face.
"It looks at what Hollywood does to women as they age," Jessica said. "Which is just a microcosm of what happens to women generally as they age."
How do you feel about this issue? Do you think women today still face ageism? Do you think they have it worse than men in this department?