Steve Price and Chris Pyne clash on The Project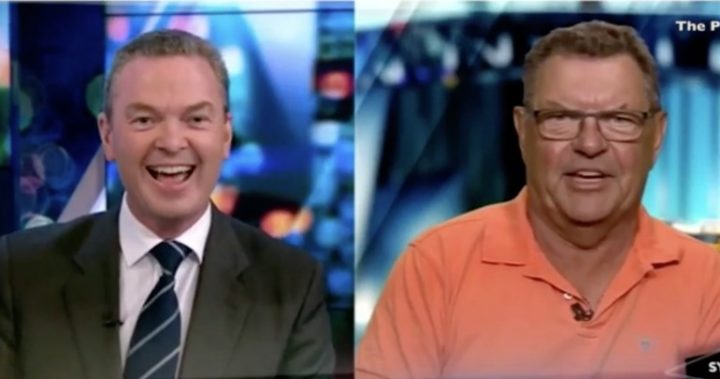 If you watch The Project on Channel 10, or you're a regular reader here at Starts at 60, then you're no doubt used to panellist Steve Price getting into an argument with someone.
You might remember late last year when people watching the show demanded his co-hosts apologise for talking over him during a heated segment about Donald Trump.
It was an apology Price said he didn't need and he continued on the show as normal.
Last night he was involved in another clash, and this time it was with one of the Turnbull Government's Ministers.
During a segment on the resignation of  New South Wales Premier Mike Baird, Steve Price came to blues with Defence Industry Minister Christopher Pyne – and it left audience members confused about whether it was in jest or a more serious fight.
Ad. Article continues below.
If you missed the show, the fight started when Price said that Pyne could learn a lesson from Baird's resignation.
"The great thing about what he did today is, unlike most politicians, he put self-preservation to one side, he put ego to one side, and that's a lesson I think a lot of people — including the bloke on the end of your desk tonight — might learn!," he said, referring to Pyne.
Pyne quickly fired back.
"It's remarkable to me that a guy whose shirt is the same colour at his fake tan is roasting me," he said.
Price fired back, telling Pyne "I'm surprised you can see through those silly glasses."
Ad. Article continues below.
The bickering continued, much to the delight of host Carrie Bickmore.
"You two need your own show. This is amazing!" she said.
And then Pyne said this:
"I've washed goldfish that look better than he does!". He later clarified that he meant to say 'flushed'.
Of course, Price wasn't having any of that.
Ad. Article continues below.
"I'll give you a story … He once confused me with (fellow broadcaster) Ray Hadley. So he knows a lot more about Adelaide than he does about Sydney," he said about Pyne.
Some are still confused about whether the pair were actually fighting for real or just mucking around.
Watch the video below and tell us what you think:
What do you think? Was it all a bit of fun or were they for real?