Special security for Pauline Hanson could cost taxpayers millions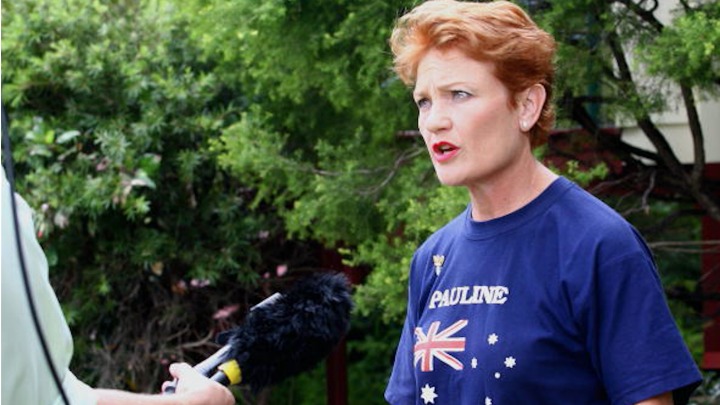 Millions of Aussies are set to cough up the cash for Pauline Hanson's security detail if threats are made against her while she is a Senator.
As a controversial figure, Ms Hanson often faces rallies from protestors and opposition when she attends public events.
Last time she was a federal MP, taxpayers footed a $1 million bill in police protection for Ms Hanson, which has left a bad taste in the mouths of some.
Former Justice Minister Amanda Vanstone said yesterday she believes police protection "emboldens" Ms Hanson and that it makes her feel safer when talking about controversial topics.
"She had close personal police protection. And I think that only made her comments stronger.
Ad. Article continues below.
"Quite simply, it emboldened her,'' Ms Vanstone said, reports News Corp.
All federal MPs are eligible for security protection if a threat is made against them, with taxpayers spending millions every year on CCTV surveillance, new security gates and windows and personal police protection for MPs.
While some say the protection is justified, others believe politicians should know that danger come with the job and should have to fund their own security.
"Another thing we have to pay for because politicians can't keep their mouths shut," wrote one voter on Facebook.
"Of cause Pauline Hanson is going to get threats made against her, which means we'll definitely be paying it. Great." said another.
Ad. Article continues below.
Others jumped to the defence of the allowance though.
"Our politicians are the ones who fight for what we believe in. If they're the only ones who can say what we're all thinking and have people listen, we should pay to protect them. It's like paying for freedom of speech. Not ideal, but I'd rather that than have them live in fear for speaking the truth," said one commenter.
Are you willing to pay for Pauline Hanson and other pollies to have security? Or should they have to pay themselves?