Social media roasts Trump over 's****y sales pitch' for his son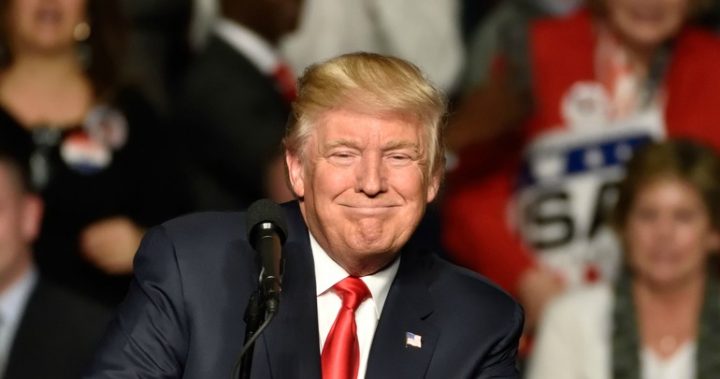 The internet is, once again, having some fun at Donald Trump's expense, after he called his son Donald Trump Jr a "high quality" person in a statement read out by principal deputy press secretary Sarah Huckabee Sanders in an off-camera briefing with reporters on Tuesday afternoon.
"My son is a high-quality person and I applaud his transparency," Trump said in the brief statement.
The statement comes after Trump Jr tweeted emails detailed how he set up a meeting with a Russian lawyer in June 2016, which was organised to provide the Trump campaign with supposedly damaging information about Hillary Clinton.
Read more: Donald Trump Jr's emails could be key to dad's undoing
The ill-advised tweets have forced the White House into damage control, but Trump Jr seems quite proud of his actions.
Ad. Article continues below.
Of course, Twitter users are having a field day over Trump's odd way of describing his children, and some of the responses are hilarious, with the #highquality hashtag taking off!
One tweeter described Trump's comment as a "sh*tty sales pitch" for his children. 
Even descriptions of his children take the form of a shitty sales pitch. #HighQuality

— Daniel Meersand (@DanMeersand) July 11, 2017
Another hilariously applied the statement to their own (apparently) exhibitionist daughter:
Ad. Article continues below.
I'm going to start calling my parenting style #ModernDayPresidential.#highquality #highqualityperson #transparency #gaydads pic.twitter.com/owHQOmki62

— David & Josh (@RockandLedge) July 11, 2017
Another, again, pointed out that while you might describe many things as "high quality", it is generally not a term you use to describe your children. 
I would describe some marijuana as #highquality not my kid @WLiberals

— Stacy Lynn (@stateoflynn) July 12, 2017
Ad. Article continues below.
And this tweeter was brutally honest about the type of person who uses a descriptor such as "high quality". 
Read more: Bette Midler 'fat shames' Trump sons over bad photo
#highquality is a conman's phrase used solely by low quality people when referring to a piece of crap they are intent on selling to you

— fuelgrannie (@fuelgrannie) July 11, 2017
Even Hugh Grant got in on the anti Donald Trump Jr fun, pointing out in a less-joking way that Trump Jr is anything but a high quality person, sharing an old picture of Trump Jr proudly holding up a saw-off elephant's tail on safari.
Ad. Article continues below.
"Americans often ask me to define the British word "Wanker", he captioned the shot. 
Americans often ask me to define the British word "Wanker". pic.twitter.com/vKxKLhxgHI

— Hugh Grant (@HackedOffHugh) July 11, 2017
Ouch!
Do you think "high quality" is an odd way to describe your child?