Sir Peter Cosgrove may have missed the point... but at least he wasn't drunk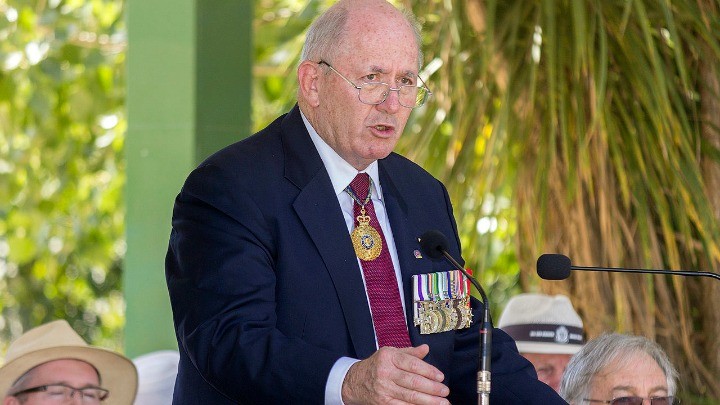 As the race begins to clean up after the race that stops a nation, it's time to take stock of what actually happened yesterday. History (or for the 70s feminists out there, "herstory") was made yesterday, however Australia's highest figurehead has been accused of missing the point entirely.
A Fairfax Media editorial today says the Governor-General was "utterly controlled by what seemed to be a pre-prepared speech" and his failure to deviate from the words on the page was a "faux pas" in the face of such a moment.
Writer Crispin Hull says Sir Cosgrove should have cast off the pre-written speech with it's "fill in the blanks" spots for horse, trainer and jockey.
"Why didn't he just chuck away his prop – his prepared speech – and seize the moment of history. For the first time in the 155 years of its running, a female jockey won the Melbourne Cup," writes Hull.
Meanwhile, the Emirates representative was just as bad – even the trainer scored poorly for leaving it until last to mention Michelle Payne's feat.
Ad. Article continues below.
"The glossy failure of the Governor-General and the Emirates representative to seize the moment of history illustrates the desperate poverty of a large part of public life in Australia today: safety, bum-covering, offend no-one, no spontaneity," writes Hull.
At least the GG wasn't drunk… Do you remember this speech from Sir John Kirr in 1977? It was just after the Dismissal of the Labor government, and he faced hecklers and boos from the crowd.
Fortified by a drink or seven, he got through his speech and made a different kind of Melbourne Cup history.
Do you think Sir Peter Cosgrove could have done better?