Should Tony Abbott stand firm to Indonesia?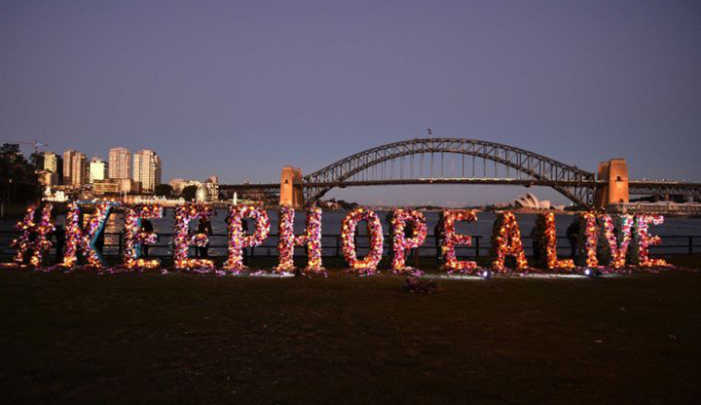 Today is the last day we can fight for Andrew Chan and Myuran Sukumaran, and I am willing to put my hand up and say that I believe Australia should fight. Many across the country are doing so – standing firm and asking Tony Abbott to stand up at his strongest for our countrymen, who to many of us appear to be well on the way to rehabilitation for their crimes. The impact of standing up to Indonesia now could be awful but on scale of awful, it is not even comparable to negotiating with terrorists like ISIL to free people before their death. Should we be afraid of another Government or should step up the diplomatic negotiations to the very top of our countries in the firmest way we know how.
It could mean they turn against the two men in a more firm and obnoxious way. It could mean trade repercussions. It could mean travel and visa restrictions, and it could mean international hostility. It also has big implications for foreign aid. We provided Indonesia with $581M of foreign aid last year. But most of all, it could save two men's lives, who since they committed a crime have spent years rebuilding the lives of themselves and others. No one is asking for their release, just let them live in jail and with humanity.
There is talk in the media this morning that we are prepared to withdraw our Ambassador to Indonesia over this. Surely that won't do anything at all.
But the end is very very near. And if we don't do something today, it is likely we'll be facing a new challenge tomorrow, national persecution of Indonesia across our nation who had become quite desirable as a destination for many.
Ad. Article continues below.
Andrew Chan and his fiancee Febyanti Herewila were married yesterday knowing he will likely be executed at midnight Indonesian time.
They've each had to choose someone to be a witness at their executions, so Chan has chosen Salvation Army Minister David Soper; and Sukumaran has chosen Christie Buckingham, a Senior Pastor at Melbourne's Bayside Church.
Sukumaran has chosen not to wear a blindfold.
Already there are many many signs that Indonesian Government are not sympathetic to Australia's pleas, with the Government asking them not to announce the 72-hour trigger on ANZAC Day, which was clearly ignored. Pictures have been released of their headstones being painted without empathy for anyone.
As the country watches on do you hold Tony Abbott and Julie Bishop responsible for the next step that they do or do not take to save these boys' lives? Or do you believe it is not their problem?
Ad. Article continues below.
The choices our politicians have are muddy at best, and no one knows the true impact of standing up for our own citizens on the international stage. What we do know is that we aren't standing up to terrorists who would be likely to be feared. That this is another government making decisions the only way they know how, by their constitution. Therefore, the firmest stance we can make should not place us in fear of our safety as a nation, it should only place us in fear of our conscience if we don't. But that's just my opinion.
Do you stand for mercy?
Image source: ABC News