Shocking scenes from Melbourne's anti-Islam rally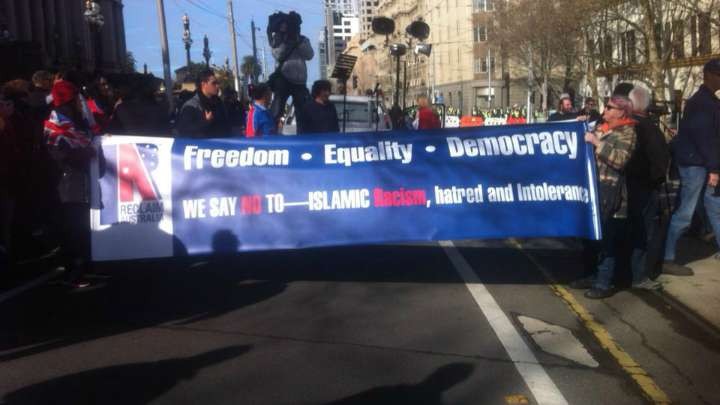 There have been hateful scenes in the streets of Melbourne today as anti-Islam protests were overwhelmed by anti-racism counter-action.
A group called Reclaim Australia organised a rally this morning calling for "freedom, equality, democracy". And while some supporters insisted the protest wasn't "anti-muslim", the leading banner read, "We say NO to Islamic racism, hatred and intolerance."
One supporter wrote on the Reclaim Australia Facebook page: "If I hear one more person say this is an Anti Muslim Rally I will slap them. We are not racist, we are only against Sharia law and the religion that condones terrorism, end of story, get your facts right."
Another countered, "I was mad too when they kept calling us anti-Islamic..but that is exactly what we are…..we are against Islam…so we are anti -islamic…so say it with pride….because we are against an ideology of hate and disgusting sex……..I am anti-Islamic.. are you?.."
Ad. Article continues below.
Either way, the protest – and another held by the United Patriots Front (UPF), which describes itself as a "nation wide movement, opposing the spread of Left wing treason and spread of Islamism" – was a red flag to anti-racism group No Room for Racism, which staged its own gathering, attracting far stronger crowds.
Unsurprisingly, the day turned violent as the groups clashed and police were forced to use capsicum spray to control the crowds.
Ad. Article continues below.
While people from both sides of the heated protest seem to have suffered casualties from the spray, so far there are only reports of a handful of injuries requiring paramedic assistance.
Racism in Australia is nothing new, but today has shown the dangerous tension that simmers just below the surface.
Scuffles have broken out on the edges of the anti-Islam #ReclaimAustralia rally. Two of these men were later arrested pic.twitter.com/qQRMJk8jfE

— Robert Baird (@rj_baird) July 18, 2015
Ad. Article continues below.
Australia is considered one of the most tolerant nations in the world but days like today, you'd be forgiven for wondering if that's really the case.
What are your thoughts on today's protest. Are you shocked that this has occurred here in Australia?