Senator Sam Dastyari channels his inner Elvis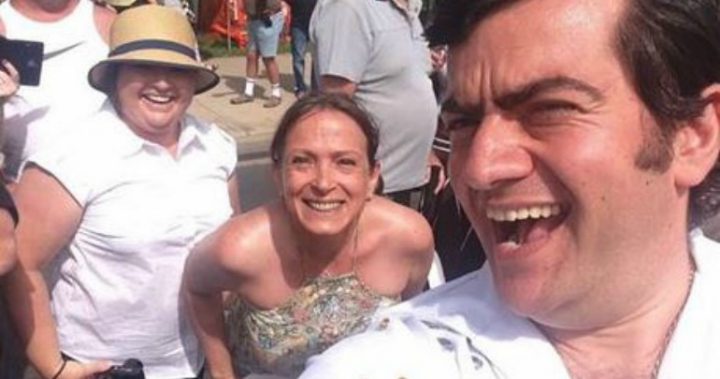 Remember Senator Sam Dastyari? He was embroiled in a tricky situation with some Chinese businessmen and seems to have gone into hiding while the dust settled… You see for the last few months catching a glimpse of the senator was about as likely as seeing Elvis Presley at Graceland.
However, with the donations scandal out of the way and Dastyari pushed from the shadow cabinet, it seems now the Labor politician has been able to embrace his inner Elvis by appearing as the King of Rock at this year's Parkes Elvis Festival.
If you're a fair dinkum fan of Elvis Presley you'll know all about this annual event that takes place in the New South Wales town.
In the video, posted to Dastyari's Facebook page, the NSW senator appears in a white jump suit and oversized sunglasses, a la The King, marching into the festival's main parade next to hundreds of other Elvis impersonators who flock to the town (and triple its population).
Ad. Article continues below.
"I didn't need a wig," Dastyari says of his hair, which has inspired a great many puns on its own.
Sam Dastyari's hair is becoming a national security threat.

— Rick Morton (@SquigglyRick) October 16, 2015
Senator Sam Dastyari, aerodynamically testing his hair in a wind tunnel pic.twitter.com/423vgwKQec

— Game Theory (@thewetmale) February 22, 2016
Ad. Article continues below.
Having emigrated from Iran as a child, senator Dastyari cast himself as 'Halal Elvis', which might have sounded like some sort of clever gimmick — and you all know Dastyari can be a pretty entertaining kind of guy in parliament — but Dastyari says his motives for the trip were quite serious.
"Some of the highest One Nation Senate vote totals of anywhere in NSW were recorded in Parkes," Dastyari says.
He went on to reveal that he had travelled to Parkes at his own expense.
Have you been to the Parkes Elvis Festival? What do you think of Sam Dastyari's 'Halal Elvis'? Share your thoughts with us.