See the "worst hurricane on record" as Patricia makes landfall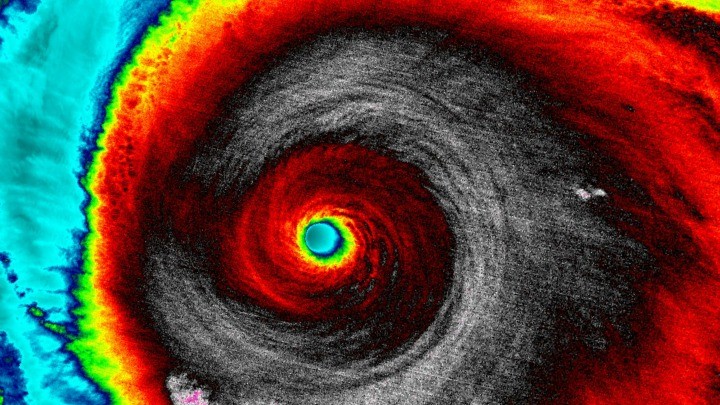 Our thoughts and prayers are with the people of Mexico are bunkered down beneath the strongest ever recorded storm in the Western Hemisphere, Hurricane Patricia, pictured above.
#HurricanePatricia is strongest storm ever in the hemisphere; see storms it ranks ahead of https://t.co/VkoFLuC3sV pic.twitter.com/FSaMLBNpDv

— Houston News (@abc13houston) October 24, 2015
The category 5 hurricane (which is the same as a cyclone here in the southern hemisphere) has now made landfall and is expected to have devastating and catastrophic effects.
Keeping it real– these are not photos from #HurricanePatricia https://t.co/yYU2fIf5R2 pic.twitter.com/EtR1VoTh2f

— Lisa Dutton (@LisaDutton) October 24, 2015
Ad. Article continues below.
The area affected is home to Pacific beach resort Puerto Vallarta and Manzanillo, the nation's busiest container port, and meteorologists are predicting a catastrophe to riva Hurricane Katrina, in the face of a much larger storm.
Makes you understand the gravity of #HurricanePatricia capability #weather pic.twitter.com/i3cis2oKwX

— Dan Maduri (@DanMaduri) October 24, 2015
"With this type of wind the damage is catastrophic; there are very few structures that withstand this" strength of hurricane, Dennis Feltgen, a meteorologist and spokesman for the National Hurricane Centre, told Fairfax.
Ad. Article continues below.
"The trees are long gone, we're talking building ripped off foundations."
#HurricanePatricia projected to be the largest ever recorded in Western Hemisphere. Watch: https://t.co/icOzN9J3zL pic.twitter.com/jaQ1qV0Iji

— Larry King (@kingsthings) October 24, 2015
Tens of thousands of people have already fled and many tourists have been evacuated, but there are many more left behind.
While it's the worst storm for the area, it's not the most vicious storm ever recorded. National Geographic explains that Typhoon Haiyan, which hit the Philippines in 2013.
Ad. Article continues below.
Meanwhile, Super typhoon Tip grazed Japan in October 1979 and holds the record for the most powerful tropical cyclone on record based on minimum atmospheric pressure measurements.
However, Patricia is frightening because of how quickly she intensified into a deadly storm.
UPDATE: #HurricanePatricia is approaching land https://t.co/ZYhFFZPlqa pic.twitter.com/J7W5aZTJDt

— Newsweek (@Newsweek) October 23, 2015

"This is the type of worst case scenario that we fear,"  says Derrick Herndon, an atmospheric scientist at the Cooperative Institute for Meteorological Satellite Studies in Madison, Wisconsin.
Join us in wishing the people of Mexico safety, hope and rapid recovery.