See Prince Harry's moving speech about how war changed his life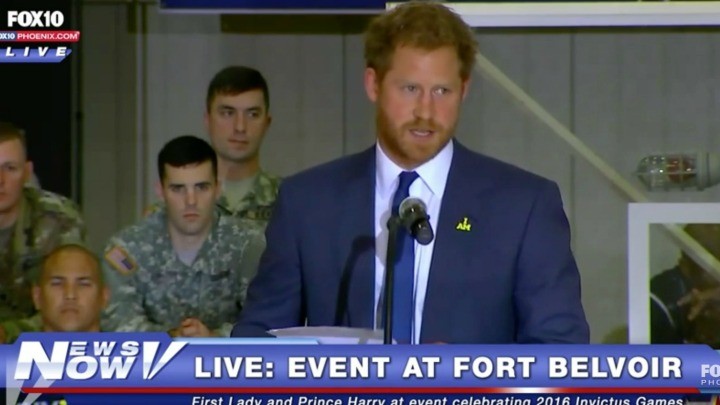 For too long, veterans have had to live with the mental scars of their time at war. But Prince Harry is determined to break down the stigma attached to trauma and post-traumatic stress.
In a heartfelt speech at a military base in Virginia, in the US, the Prince said, "I'm in no doubt that my two deployments to Afghanistan changed the direction of my life. There's very little that can truly prepare you for the reality of war."
He spoke about his last flight home from Afghanistan alongside wounded and dead comrades and the moment that he realised that war was a life-changing experience for those who survived it.
"From that moment I knew I had the responsibility to help all veterans who had made huge personal sacrifices for their country to lead healthy and dignified lives."
Prince Harry joined Michelle Obama at Virginia's Fort Belvoir, visiting wounded servicemen and women and watching a basketball game with the First Lady.
Ad. Article continues below.
He is Patron on the Invictus Games, an event for wounded veterans that he launched in 2014. He and Mrs Obama launched the 2016 Invictus Games, which will be held in Orlando.
Harry retired from the army in June having served two tours to Afghanistan. Speaking to fellow soldiers, he wore a wristband with the words 'I Am The Master', and an I AM badge, in reference to a line from the poem Invictus, which means "unconquered": I am the master of my fate: I am the captain of my soul.
Prince Harry said, "The games epitomise the very best of the human spirit."
Ad. Article continues below.
See his moving speech here and tell us, do you support Prince Harry's efforts to break down the stigma attached to veterans' mental health?
Share your thoughts on Prince Harry's speech below.