See Julie Bishop's top performance in TV interview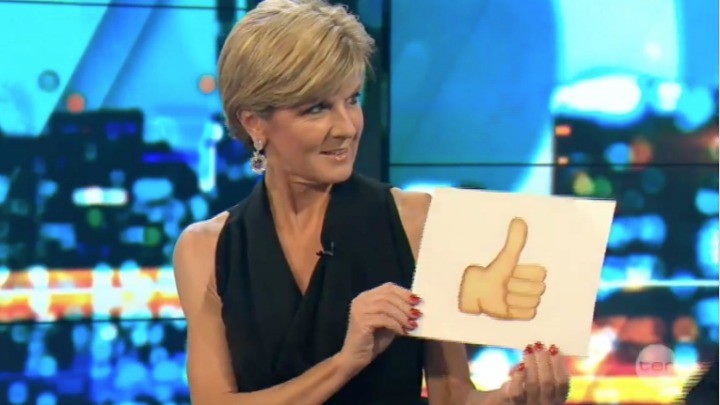 Say what you like about Julie Bishop, but she presented a fine and formidable example of an older Australian woman last night when she appeared on The Project.
The interview ranged from the serious to the silly, touching on topics such as gay marriage, the Syrian crisis and Malcolm Turnbull's leadership.
The foreign minister was asked to choose from a number of emojis to answer some questions, including the first word she thought when she heard the news Tony Abbott had knighted Prince Philip.
Perhaps the biggest boon on the interview was Ms Bishop's resounding support for the plebiscite on marriage equality, which commentators are saying will greatly advance the cause.
"I have absolutely no concerns about [same-sex marriage] myself, but I know there a lot of people who are deeply concerned about the issue," Ms Bishop said.
Ad. Article continues below.
"That's why I think a plebiscite, where the Australian people get to have a vote on it, on an issue as fundamental as this, that goes to the very composition of our community, the way we feel about each other, how we treat each other.
"I think the Australian people should have their say."
See Ms Bishop's interview here and tell us, do you think she handled herself well? Is Julie Bishop a role model for Australian women – and could there be a bigger role for her in Australian politics in the future? 
Julie Bishop MPForeign Minister Julie Bishop shares her emoji thoughts on knights and dames, views on marriage equality & the Syrian conflict #TheProjectTV

Posted by The Project on Sunday, November 1, 2015