Second actress details 'aggressive' abuse by Dustin Hoffman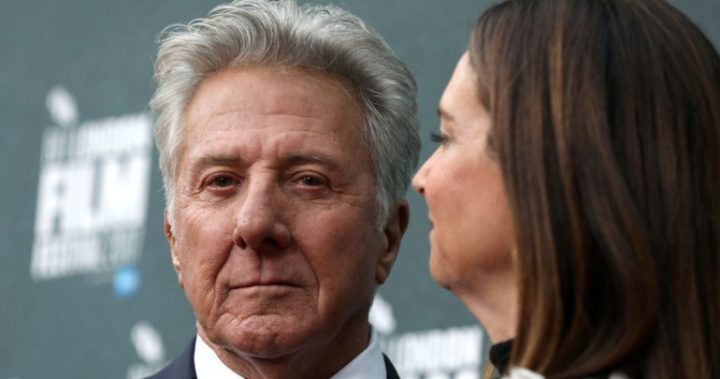 A second actress has come forward to accuse Dustin Hoffman of sexual abuse.
Kathryn Rossetter co-starred alongside Hoffman in the Broadway production of Death of a Salesman in the 1980s, and says Hoffman used his position of power to violate her most nights throughout the show's season.
Rossetter penned a first-person account of her experience for The Hollywood Reporter, published on Friday, and described a "horrific, demoralising and abusive experience at the hands (literally) of one of my acting idols."
The first time it happened, she said she "felt his hand up under my slip on the inside of my thighs. I was completely surprised and tried to bat him away …"
"He kept it up and got more and more aggressive," Rossetter wrote.
Ad. Article continues below.
"One night he actually started to stick his fingers inside me. Night after night I went home and cried. I withdrew and got depressed and did not have any good interpersonal relationships with the cast."
Rossetter said Hoffman also abused her at after parties, saying he would "grab my breast" before a photo was taken and then quickly drop his hand before the camera could capture the incident.
One photographer did manage to capture the moment, showing Rossetter pictured smiling with Hoffman's hand on her breast.
"There I am — big smile and my arm moving toward his with the intention to push it away," she wrote. "But caught as it is, it seems I'm complicit with the gesture. I was not. Not ever."
She said that Hoffman would also force her to give him foot rubs, encouraging her to move higher and higher up his leg.
Ad. Article continues below.
While she was uncomfortable with the situation, Rossetter said she "felt trapped".
In his biggest show of public humiliation, Rossetter said one night Hoffman pulled her slip up over her head backstage, exposing her naked body to the crew.
"When at last I found an opportunity, I pushed Dustin up against the wall screaming, 'F—k you! How would you like it if someone did that to you before you walked out on stage every night, Mr. Method Actor?'" she wrote.
Hoffman declined to comment on Rossetter's accusations, but gave The Hollywood Reporter the names of four people who say they never witnessed the incidents described by Rossetter.
The veteran actor has already apologised to writer Anna Graham Hunter, who says she was abused by Hoffman during filming of the Death of a Salesman movie in 1985.
Hoffman said the allegations were "not reflective of who I am" and that he didn't remember ever meeting Hunter.
What do you think about all the allegations against Hollywood's leading men?