Searching for a crossword and the Valley of the Rocks [Rogue Nomads]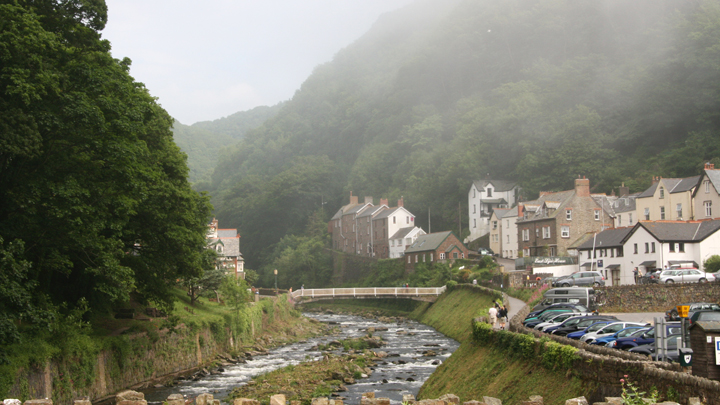 This is part 21 of Dee's grey nomad adventure around Europe. To read her previous instalment, click here.
…where we drove miles for a crossword book, and met some lovely people from Switzerland at the top of Exmoor…
I vaguely remember going down a really steep hill as a child when we went to North Devon….Porloch Hill! So, we went to Porloch, and I wasn't wrong! The only difference was we drove along the windy slowly descending narrow country roads to Porloch, and then UP that hill! And it's a doozy. But the Transit made it.
Porloch is an pretty little town, so we returned the next day and went a little further to Porloch Weir, which I think is one of the nicest spots in the area. Thatched cottages and pubs around a little fishing harbour. On from Porloch Weir we decided to take the toll road towards Lynton and Lynmouth. This road was built after the Napoleonic Wars for those people not wishing to take the notorious Porloch Hill. Tolls were taken at the Ship Inn in Porloch Weir, but now they rely on an honesty box two miles further along the road. Ever since the early days of motoring Porlock has enjoyed a unique place in the history of motor sport. Back in the 1960s it was used as an RAC Rally stage, one of the fastest drivers at the time being the late Pat Moss – sister of Stirling Moss – who completed it in 3 minutes, 56 seconds.
Today the road is used not only by traffic wishing to avoid Porlock Hill, but also by cyclists, walkers and people who just want to enjoy the sensational views. There are several stopping places and a picnic area, which we used frequently.
Ad. Article continues below.
At Lynton and Lynmouth, both small seaside towns (hilly of course) we searched for a place that would sell a crossword book. Greg is an avid crossword fanatic and when he runs out he gets a bit….edgy. Nowhere could we find one. O.K., I said, we will surely find somewhere in Ilfracombe, which is a much bigger place! Being intrepid travellers, another 20-30 miles along narrow coastal and country roads is nothing! So on we went, deciding to take the coast road and suddenly we encountered the Valley of the Rocks! Having not heard of this area, we were stunned.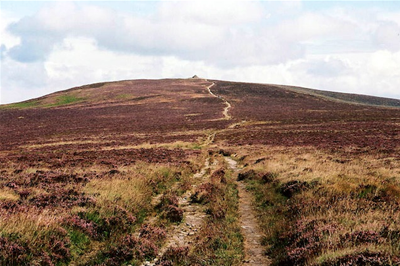 She caused quite a stir when she was erected on the harbour and many residents were against having her, but it seems she has become quite popular with visitors.
Ad. Article continues below.
Our friendly Post Master had told us that if we wanted an 'easy' walk we should take a walk up Dunkery Hill, nearby, to the Beacon. Apparently this is the highest point in Exmoor and Somerset. So, the next sunny day off we went! Oh dear. Easy? Not for us. We huffed and we puffed up a very long, steep hill. I wouldn't give up. We could see the Beacon in the distance! Apparently from the Beacon on a clear day you can see seven counties! Made it! And the view was spectacular! Once there we discovered that most people had walked from another side which was almost flat. So we felt we had achieved something, albeit at a slow pace. Met a Swiss couple at the top, and after chatting for quite some time, exchanged details, took photos etc. They plan a trip to Australia next year so you never know.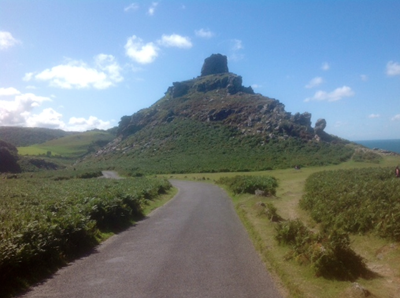 Walk up to the Beacon
Going back down: much easier!
Ad. Article continues below.
Have I mentioned the hedgerows? At this time of year, not only is the heather out all over the moors, but the hedgerows are alive with colour. Wherever you turn, it's purples, and blues, and yellows, and orange, plus lots of different greens. It's worth the rain to see these colours.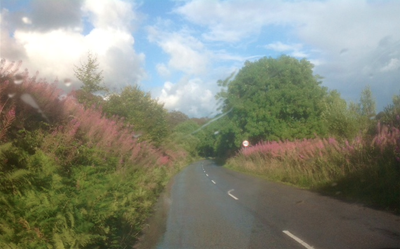 The hedgerows
Also this area was the first area in Europe to be designated an International Dark Sky Reserve! Exmoor has long been recognised as having dark night skies, a valued attribute of the rural character and tranquility of the area. So now you know where to go to see the stars! (Doesn't beat being in the outback though).
Have you been to these areas of England before? Did you do the same things that Dee did? What was your favourite part? Tell us below!