Scott Morrison said he didn't want to be the Treasurer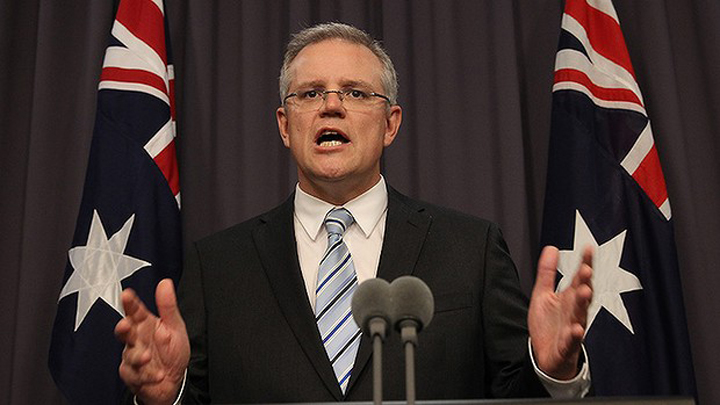 ABC's Kitchen Cabinet with Annabel Crabb is back for its fifth season and going to politician's houses for a meal and a good chat. On last night's show it was clear the episode had been filmed months prior, as Scott Morrison made several comments that suggested he didn't want to be the Treasurer at all.
Mr Morrison slammed people who said he wanted to be the Treasurer, saying "They're just wrong. I don't know how many times I've had to say this.
"I do get a lot or people ascribing motives and positions to me. Look, I just see that as their issue. Not mine.
"What should I have done? Not stopped the boats?"
Even before Malcolm Turnbull and the ballot, there was speculation around Mr Morrison and whether he would take over the job should Joe Hockey be ousted.
Ad. Article continues below.
Viewers of last night's program watched as the now-Treasurer ate homemade Sri Lanka fish curry, samosas and chapatis with host Annabel Crabb and discussed asylum seekers, saying becoming a people smuggler's worst nightmare "was the only way to stop them" while he was the Immigration Minister.
Despite this, Mr Morrison assured Miss Crabb and viewers that he is a human being and these issues "impact me that impact anyone else," he said.
Later, he talked of his religious viewers and that he disliked being criticised for his faith. SMH reports he also said that his local Shirelive Church, is "incredibly mainstream" and "Often people attack what they don't understand".
Viewers were quick to jump on Twitter and share their opinions on the man who denied he ever wanted to be in the role he's now in.
Take a look and tell us, what is your stance? Are these just the games politicians play or should the position be given to someone who wants it?
Ad. Article continues below.
If there is a god, I'm sure Scott Morrison won't be meeting her. You can't treat refugees like that and be forgiven #KitchenCabinet

— Richard Hemming (@Richard_Hemmo) October 28, 2015
breaking: Scott Morrison has just resigned on #KitchenCabinet "they're wrong" – he doesn't want to be a Treasurer. Never did. #justkiddin'

— Samantha Maiden (@samanthamaiden) October 28, 2015
People say you want to be Treasurer… 'They're wrong! They're just wrong!" says …. the Treasurer. #kitchencabinet

— Annabel Crabb (@annabelcrabb) October 28, 2015
Ad. Article continues below.
I become the first journo I believe to ask the Treasurer whether he speaks in tongues. #kitchencabinet

— Annabel Crabb (@annabelcrabb) October 28, 2015