School shows old-fashioned discipline leads to outstanding results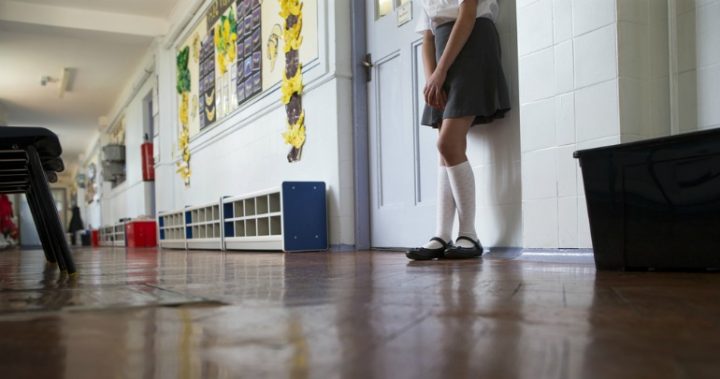 Pauline Hanson kicked off a new conversation this week about discipline in schools, and plenty of people have strong thoughts on the issue.
But perhaps not as strong as this school principal in the UK, who's offering a salary of almost $50,000 to hire a Director of Detentions and Isolations, as he called the role.
The job advertisement to join the Magna Academy in Dorset says that candidates who "want to be every student's best friend" need not apply. Nor should those who "think it is mean to give a detention when a student does not have a pen".
Instead, the head of the academy's 'behavioural correction unit' – yes, that's what it's called – needs to be a disciplinarian, the ad reads.
"If you believe in a strong, 'tough love' approach to discipline, no excuses and that children should be respectful and obedient at all times then this may be the role for you," it goes on.
Ad. Article continues below.
On previous occasions, the school has hit the headlines after removing more than 40 students from lessons after failing to turn up with the correct equipment (in this case, their pencil cases were too small and rulers too short, though it's not clear how that's possible, since full-size rulers are usually a standard 30 centimetres). 
Principal Richard Tutt's methods clearly work, as The Sun reports. The school was in special measures when Tutt took over, which means that it was considered to be not meeting standards expected by the UK's schools regulator Ofsted. Two years later, Ofsted rated it as outstanding, according to The Sun. And it's currently in the top 7 percent highest performing schools in the UK.
After parents kicked up a fuss over the pencil-and-ruler requirements, Tutt stood firm. telling the Daily Mail that he'd given warned students and their parents three time on what equipment was considered correct before electing to remove non-compliant students.
Teachers at the school clearly work to the same ethos, as recent tweet by one showed.
Really proud to work in a school that simply wants its teachers to teach & its learners to learn, & makes sure this happens! #disciplinarian

— Sara M (@Mrs_Mash_) June 21, 2017
Ad. Article continues below.
One parent told the Bournemouth Echo that the behavioural correction unit "smacks of bootcamp".
"They have tough sanctions which don't work for a lot of the children and some are frightened – it is having the opposite effect," the parent said.
But in a statement to the newspaper, the school said the unit would host only the very small number of students that persisted in distrupting other students' learning.
"Our plans are that, after a specified amount of time, students will be welcomed and re-integrated back into main lessons, the statement said.
Ad. Article continues below.
Queensland's Senator Hanson would likely approve. The firebrand MP caused a stir this week, not only by suggesting that children with disabilities should be educated outside mainstream classrooms, but by calling the work done by modern-day students "pathetic".
Schools were too coddling and did not teach children consequences, she told Starts at 60.
"General discipline needs to be restored in the classroom, so that if a teacher, volunteer parent or teachers aid give a direction, they're not met with abuse or back chat," she said. "Children appear to know all of their 'rights' without understanding their responsibility."
What do you think of having a Director of Detentions and Isolations – too harsh or much needed?