"Save some for us" and "Don't have too much fun without me" say our deployed troops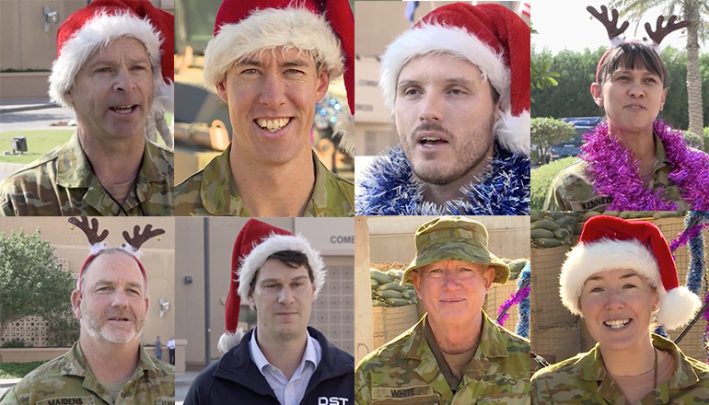 Beautiful Christmas messages have been shared on Facebook today by our troops who are deployed in places far and wide.  2300 Australian troops remain on the other side of the world this Christmas in operations in Iraq, Afghanistan, the Middle East and Southern Sudan.  They are also deployed to protect Australia's northern waters.  
"I hope you all aren't having too much fun without me" and "Save some for us", were some of the smiling but emotive sentiments from the field and we're sure it echoes the feelings of those waiting at home today.
.
Defence force troops have posted messages on videos to their families, and it is certainly a good reminder of how hard it is to be away from home at this time of year, and how hard it is on the families.  
There is a stream of big Christmas hugs for family members and friends which the whole nation would return if possible to those protecting us at this time of year.
A few minutes watching these today will bring tears to your eyes.
Karen, a senior nursing officer currently in Iraq, had a simple request: "Save some Christmas pudding for me," she said.
Ad. Article continues below.
Another member of the Taskforce in Bahrain said "Have a beer down on the beach for me"
Operation Accordion, the main base in the Middle East posted this message on Facebook.  
This video is personal messages from defence force members on Operation Highroad, in Afghanistan. Lovely to see the faces of those far and away.

Merry Christmas from the Task Group Taji in Iraq, with personal stories from the ADF personnel.

Ad. Article continues below.
Merry Christmas messages from HMAS Arunta in the Middle East. Lovely messages.

And finally, messages from Operation Manatou in Bahrain.