Samantha Armytage takes a swipe at Waleed Aly online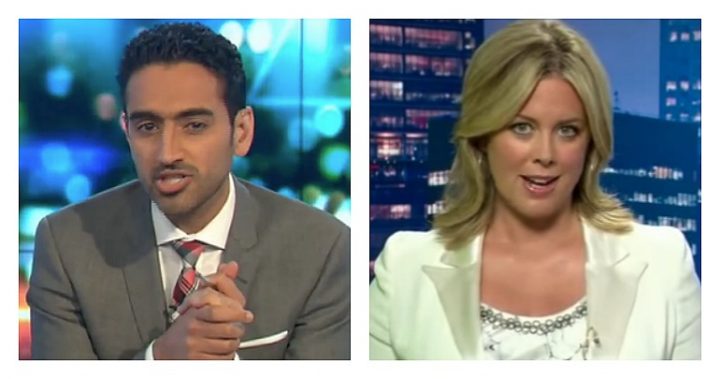 The Project host Waleed Aly made headlines earlier this week after going at it with Foreign Minister Julie Bishop on live TV and it seems he ticked of Samantha Armytage at the same time.
Ms Bishop appeared on The Project to talk about the Perth teenager held in Bali suspected of carrying drugs when Waleed turned the conversation to immigration minister Peter Dutton's comments in parliament earlier that day where he said Malcolm Fraser was wrong to allow so many Lebanese-Muslims into Australia in the 1970s.
Ms Bishop accused Waleed misquoting Mr Dutton and it wasn't long before all hell broke lose.
The segment divided viewers and prompted Sam to take a swipe at Waleed on Twitter, saying: "Journalists have a responsibility to quote correctly. Not just give their opinions".
She added a link to the segment below. Her tweet received hundreds of replies, some in support and others effectively telling her to back off.
Ad. Article continues below.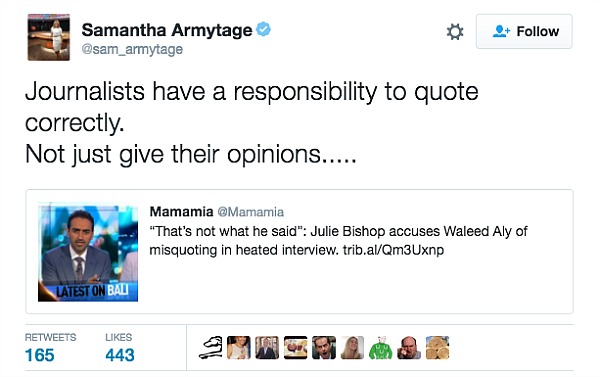 "Onya Samantha, I think a lot of Australians are getting sick of Waleed's self-important smug opinions," said Chris Tangey.
"What on Earth would a Sunrise host know about journalism?" commented Leesa Little.
Ad. Article continues below.
"She's been a professional journalist since 1999 & her opinion carries much more weight than a 'blogger'," replied Mikey Cole.
Read more: Julie Bishop and Waleed Aly face-off over Peter Dutton
Waleed has shot to fame since he became a regular host on The Project and started running his own editorials on issues like immigration and Islamic State. While his won his fair share of fans, he's also attracted critics.
On Wednesday night, he pushed Ms Bishop to comment on the government's immigration policy.
"So you would say that absolutely there is no suggestion from anybody in the government in support of a discriminatory immigration policy?" he asked.
Ad. Article continues below.
"Absolutely not, we have a non discriminatory immigration system," Ms Bishop replied.
"Peter Dutton and the government have also pointed out time and time again how valuable the contribution that immigrants are.
"We are one of the most successful multicultural nations on earth and that's because we welcome people from all corners of the globe.
"But we also want them to become contributing members to society and I think that's one of Australia's great strengths.'
Who do you side with in this debate? Do you think Waleed was out of line or just doing his job?